Once I Was A Poet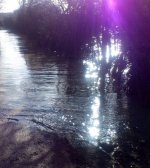 Mon, 07 Jul 2014
Once, I was a poet -
or a child who liked words
and the sound of her voice. 
I believed I was a poet,
broken hearted at the loss
of love before its story.
I thought I was a poet,
because I was in awe of the beauty 
I hoped to capture on paper.
Cherished wife - doting mother
writing diaries; afraid to miss a moment 
as time left her lonely.
Poetically inclined, I headed blind through 
tragedy with bright dramatic majesty, choking
self imposed catastrophe through alcohol dried tears.
Exquisite misery, inspirational,
sensational, reasonless rhymelessness
with incidental assonance of momentary balance
swept away each chance of happiness
with the rhythmic beats of a fickle heart.
I must be a poet, I said,
wasting life, as only a poet has time,
existing through regret, dwelling on failure,
then writing about it.