Grimm Fun (Poetry Monthly)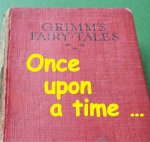 Mon, 22 Jun 2015
Gathered tales,
weirdness fantastic,
fictional magic:
golden haired lasses
whose beauty surpasses
all others
(– symbolic
of beauty of spirit?
for they [usually] proved
to be graceful in mind,
and, unlike their guardians,
both gentle and kind):    
the hero was snared,
set impossible feat,
then repeat and repeat    
of strange tasks to complete
before he could claim his bride's hand,
gain her riches;
for evil had crookedly planned,        
his downfall prepared;
the guardians were devious
in their challenges perilous
to enmesh and to thwart
whoever they'd caught.
The 'wisdom' that's stressed
is, when put to the test,
discerning when help they are needing,
and judging aright
(not by shallow first sight)
dare they trust this odd creature who's leading?
The venturers 'clever'
were cocky and never
accepted the guidance when offered.
They thought they knew better
than a tramp in the gutter
or a fox (prince disguised?)
whose words were despised:
full failure, disgrace, shame they suffered.
The trauma, adventures so rotten
are afterwards quickly forgotten
when he finds that he suits her
and she likes this good suitor,
and their lives and their future
seem so normal (unmagical,
not fantastical)
(mostly happy)
thereafter.