Willow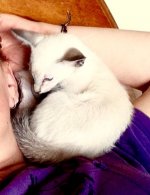 Thu, 16 Jul 2015
If I call you Willow, will you get me through -

still standing, though bending in the storm?

Your raucous cry calls out my inner mother, 



and even as pain threatens,

my whispering your name reminds me 

of the kindness that brought you to my heart,

and kindness is a heartening thing.



Oh Willow, will you mind

if I no longer have the strength to bother 

with you, and could you quickly grow to favour 

quiet company beside me on my bed - 



pat my gleaming head - closed paw, purr 

until the rumble of your happiness becomes 

my drifting beat?



Will you be my eyes and ears should I no longer see, 

or hear - greet the creeping visitors who brush back 

shampooed hair, and weep mascara tears,

or giggle as they hush and chatter In the deep?



But for now, you'll skitter howling circles -

till your engine putters out and then you'll curl

into the oval of my arms. 



Kneading needled feet

into my cardie, dream of mother's milk, 

and I with thankful swallows flitting from my throat,

will pause this journey for a moment 

just to watch you sleep.