Lord of flies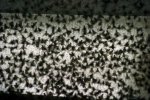 Sat, 05 Dec 2015
She was standing facing the cupboard in the corner when my eyes flicked open.
I blinked twice in the thick dark, still caught in the slip between dreams and the present. The edges of the curtains fed trails of an external, lighter darkness, pushing grey panels onto the walls around her.
'What are you doing?' I muttered. She shuffled. Outside, a car passed, sending a thin yellow rectangle over the ceiling. I scrabbled at the bedside table for a roll-up and, propping myself up, lit it. My knees arched up to form a little duvet mound in the centre of the bed.
'She isn't suited, she won't last,' she whispered, resting a hand on the cupboard door. Suddenly she turned, and her hair looked rotten and lank in the murk. As she moved forward through the shade panels, I could see she was scratching the fresh scab line at the top of her forehead.
'Don't scratch that,' I said, puffing a wash of smoke into the still. She had tried to cut her face off. She said she wanted to see her original face.
'She isn't a right one, she isn't right for the temple.'
'Enough of that,' I said, raising my voice. 'It's not healthy, it's not a healthy way to talk.' 
Rolling round, I slid a drawer in the bedside table open, and fished out a little plastic bag. Stubbing out my cigarette, I leaned out of bed and pulled her close by her hips. Her filthy hair brushed against my cheek and she wrapped her arms around my neck. I felt her whispering broken words that made no sense to me, guttural words. As much pain as I felt for her, at times like this - her body pressed into mine, the night closing around us - it was as if her way of thinking might crawl into me, and I had to act, always.
Pulling the bulb of her bottom lip down, I placed three white dots on her tongue. She closed her mouth and pressed the top lip over my finger. Then she swallowed and folded back into my arms. I lifted her into the bed.
Her warm face was nuzzled into my neck, and I leaned in to kiss her ear.
'You have to take better care of yourself.'
'There's a broken white temple,' she sighed against my neck.
'Don't talk like that,' I said, kissing beneath the cut on her scalp. When I laid back I could make out the sharp lines of the pentagram she had painted on the ceiling. Looking at it now in the little boxed bedroom, it felt like all there ever was, and I suddenly felt a crippling sadness.
*
Somewhere far away, little white circles danced across my vision. I watched them skit through the endless dark. Feeling an itch on my face, I raised my hand to rub it.
My face was covered with flies.
Flapping and shaking, I ducked my head down as swarms coated my cheeks. Above me a cloud of black dots fizzed and swelled from the white circles, wrapping around my body and in a beat I was back in the dark room, pushing my eyelids open and shut. As I jerked my right hand out again, scrabbling for a roll-up, she lifted her head up and folded her lips around my bottom lip, holding them there like two leeches, warm and soft.
I resolved to try harder from now on. I remembered how she was at such times.
'Lord of flies,' she breathed into my mouth as she pulled her lips away, trailing a web of spittle.
*
'Maybe you were right with this whole fucking original face thing.'
I had awoken irate at the sight of her bent over the dresser, fumbling with a rolled-up tenner.
'My original face, before my parents were born,' she mumbled, ducking her head down. I watched the shock of hair bobbing. When she rose she sniffed in staccato bursts.
Rising, cloudy-headed, I drew back a sliver of curtain. A thick white flurry filled the sky; the fields around our home were coated with snow, and the line of hills beyond floated amongst the flakes. My hands were shaking, and I stooped for a half-full bottle of wine on the floor.
The warm muck sparked my senses. I stopped drinking for a moment to hack up, clamping the bed post as my eyes watered. Then I finished the bottle, dropping it back amongst the tins at my feet. In the thin segment of window I had revealed, a hint of the reflection of her face drifted, a porcelain death mask lingering amongst the snow.
I sat back on the bed and heard bottles clink as she lurched out the room. Several moments later, I saw her frail shape as a pen smudge in the sea of white outside. She was going up the hill. My mind spat a series of clipped possibilities, each more disturbing than the last.
*
The sky threw up flailing clouds of flakes, and the brilliant white landscape touched its skirt. In patches further up the hills, bare trees stood; skinny branches jutting out, as if someone had speared the trunks.
In sudden swells the wind would shriek before lapsing into a low, gathering chant, all the time cutting soft, cold flurry against my face. Amidst a clump of trees I passed the snow-laden mattress, with its four stakes at each corner, and I hastened as I saw the curve of the little white tower separating from the whirling screen.
The wooden door was open, flapping and banging against the white stone. The indentation of the padlock remained after it had sunk into the fresh snow. I crunched up to the entrance, flinching at the smell of urine and excrement. It was empty. I pushed the balls of my hands into my eyes. Then I spun around frantically, looking in every direction.
'She wasn't a right one.'
She was kneeling in the snow some distance away, and she spoke calmly.
'She was ours,' I said, tracing my finger along the wood of the door, 'you shouldn't talk like that. You shouldn't think like that.' 
'I am better than her. You created me from fire and created her from clay.'
I slumped over and fell to take her in my arms. As she wept on my shoulder, I could see past to the tiny shape speeding, falling and tripping through the field below us - the field where we buried our old ones - and heading towards the road. I made no move to rise or to stop the girl now. We should have taken better care of ourselves. I pressed acceptance, and failure borne of unshakeable commitment.
In time she rose and led me by the hand into the tower. Locking the door, I sat amongst the filth while she doused the wooden floor, then us. The petrol dribbled over and stung my nostrils. I shook in the cold as she knelt in front of me and pressed her lips, once more, into mine. She bit down as she dropped the match. I opened my eyes: it seemed for a split second that where there should have been beautiful flames, there were millions of sticky flies, swarming to engulf us.