Fine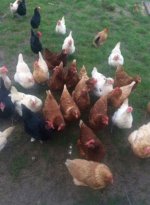 Sun, 24 Jan 2016
2 likes
Not waiting for the spectacular 

revelation

I curiously peel

my surgical gown



to reveal a simple dressing

snaked across the slash of my chest -

all neatly stretched and cleanly

stuck to the flat unrudeness of my new body.



I find I'm not repelled, but pleased 

instead of horrified, as of course, 

I might have been, under the circumstances -

recently bereaved

of girlness.



Somehow, I slept and woke four hours later

to find myself without -

I briefly wonder where they are...

and about the pain -

Thought I might, but I don't cry -

or smile, or anything...



There are voices echoing around me

gaggling goosily, and laughing silly chickens,

fussing, pecking and henning about my needs. 

Trying to feed me, etc.



I realize it is raining outside -

tears streaming down the cheek of a window, 

but inside my head, 

I'm not dying like I thought I might be,

I'm fine. 



Really.