Witnesses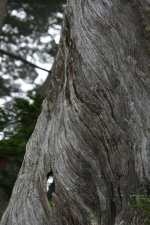 Mon, 25 Jul 2016
The cat was dead.
It lay slumped on its side in the middle of Leonard's back lawn.
It wasn't Mrs Forcible's cat because Mrs Forcible's cat was black – the sort that, three hundred years ago, would have been tied to its owner and drowned – whereas this cat was grey.
Leonard prodded it with a slippered foot.
Dead.
He squatted down beside it – a have-a-go detective in a dressing gown.
No fang marks. No bullet wounds. No obvious breaks. Not a scratch on it.
What did a cat look like when it died of natural causes?
Surely it just found a sad corner to curl up in, fell asleep, and forgot to wake up again.
But this?
It was all far too dramatic.
There was something about the way the cat held its pose. Like it knew it was a puzzle. Like it was doing all this to annoy Leonard.
He knew how children's stories worked, and wondered if the cat had once been part of one.
Usually some animal or other would attract the interest of a bored child and lead them off somewhere. Down a rabbit hole, through a secret door, into the heart of a dark forest. That sort of thing.
Sometimes the child followed them through a poor bit of stitching in the fabric of the universe, where this world led into the next.
Perhaps there'd been a war in one of those other worlds, and, however briefly, the fighting had spilled over into this world, into Leonard's garden?
Or something.
Leonard stood up, his knees clicking, and looked around for potential witnesses.
The birds bunched up on the telephone wire saw things, sure. But they sang only for themselves.
The gnarled pear tree that started in Leonard's garden and twisted its way over the fence into Mrs Forcible's was old and watchful, but you'd have to carve a mouth into its trunk before it uttered a single word.
And the moon saw just about everything, didn't it, but it was now fading in the yoghurty morning light, and its secrets faded with it.
Then there were the stone sculptures that the old owners had left behind. They huddled together in a distant corner of the garden:
The boy reading his book – No, thought Leonard, the boy was too lost in his own little world, forever stuck on the same page, to have seen anything.
The pixie sleeping on its toadstool – No, it hadn't opened its eyes in years.
The sphinx, which had a knack for riddles – But no, not this riddle, for its eyes had been chipped away to nothing.
No reliable witnesses, then. No leads. No clues. No nothing.
Leonard went inside and typed 'what to do when you find a dead cat' into his PC.
The RSPCA weren't interested in dead cats, it turned out. They only did the living kind.
There was a dead cat hotline, which he called three times, but no one answered.
His best bet, according to northumberland_mam79 on netmums.com, was to take the cat to the local vet.
They'd scan it for a microchip that would allow them to identify and then contact the owner.
And if there wasn't an owner?
The vet would make a note of it in a big black book.
It was obvious then, wasn't it.
He should take the cat to the vet. You know, do the good thing. Make someone's day. Well, not 'make someone's day' – no one wanted to find out that their cat had died – but at least he could put someone's mind at rest.
And that was exactly what he'd intended to do – honestly, it was – as he unlocked the back door.
But something happened then, out there, in the garden, and instead of going to the cat, Leonard walked right past it, to the shed.
There, amidst the cobwebs and the old, forgotten tools, he found the item he was looking for.
He went back inside, rested it across his knees, and waited.
The moon was high in the night sky by the time he went back out again.
The cat was still there. He could make out its slumped shape, just about, in the gloom.
In the dark corners of the garden, half-seen things stirred.
Leonard hugged himself. Muttered, 'Cold.'
The sculptures sat humped about in the shadows. Had the boy stood so close to the sphinx earlier that morning?
A bird-like shadow peeled itself free from the telephone wire, arced about it in a lazy doodle, then returned to its original spot. It was watching Leonard.
At last he turned to the old pear tree.
It was silent. Watchful. A half-dead thing still.
The wood-saw felt cold in Leonard's hands.
Moonlight ran silver off its teeth.
Taking care not to step on the fallen pears, he approached the tree, took the saw to the trunk, and started to carve.