Swallowed up?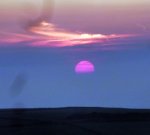 Wed, 17 May 2017
The ball of fire sinks into the blue
(or is it green, or grey,
blue-green today?)
bite by bite it drops out of sight –
will the ocean boil, and froth,
sun quenched?
Dark clouds, dark sea,
no boundary clear –
which makes it appear
the water has taken our light:
we wait through the night
for the colours to shine –
the myriad hues
of pinks and blues,
the patterns, the greens
of fields, and petals,
of faces, and wonderful scenes,
as the rays rise again in the dawn.
[Poetry monthly: Into the blue]