Quinn and the elephant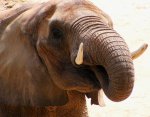 Sat, 08 Jul 2017
When the elephant started following Quinn around he didn't mind, if truth be told he was flattered by the attention.
The elephant never tried to follow him into his house, just as well, as he'd never have fitted, he was content to wait in the garden, where he made himself useful pulling up weeds and trimming the top off the overgrowing bushes.
Quinn's neighbour witnessed this with interest.
"I couldn't borrow your elephant could I Quinn? Only the garden's in a right state since I hurt my back, it's like a scene from the Day of the Triffids."
"It's not my elephant," Quinn said, "It just followed me home. But I'm sure if you offered him a bun he'd be happy to oblige."
Before long the elephant was doing the gardens of every house in the street.
When the elephant first started following Quinn, he would wait outside for him when he went to work, but one day the elephant followed him into the office - it was a big buidling with large sliding doors, so the elephant had no problem gaining admission.
"It's not bring your pet to work day, is it Quinn?" said Lumpton, "Only my stoat's very shy, I don't think he'd like the attention."
"No, it's not my pet, in fact it's not my elephant at all, he just followed me."
"You can't bring your elephant to work, Quinn," said Bosun, "It's a health and safety risk, what if he were to fall on someone?"
"It's not my elephant," Quinn said. "He just followed me. Why not remove him, if you don't want him here."
"Remove an elephant Quinn? That's a health and safety risk, it takes two people to safely carry a box, we'd need the entire workforce to lift and elephant and management are hardly going to authorise a relocation of workload on that scale."
"My your elephant's got a really big trunk," said flirty Sally, "Will it let me stroke it?"
"It's not my elephant," said Quin, "But I'm sure if you gave him a bun he'd let you.
Later that day Lumpton approached Quinn . "It's the photocopier Quinn, it's jammed again. If it's not fixed in half an hour we'll all have to go home. The office can't function without the photocopier. They should have read the memo I sent a few weeks ago, I said we needed a second copier. The problem is nobody ever reads memos these days, Quinn. Perhaps I should have sent a text instead."
However, it transpired that there was no need for the entire workforce to go home, as the elephant came to the rescue, opening the rear of the photocopier and removing the stuck paper with its trunk, which was ideally suited to reaching parts of the machine a human arm couldn't reach.
The elephant proved useful in lots of ways.
"There's a problem with the company's meteor-strike policy, Quinn," said Bosun one morning, "Can we borrow your elephant?"
"It's not my elephant," said Quinn, "But I'm sure if you give him a bun he'll do what he can."
It became the go-to elephant for any problem. "Your elephant is a real boon, Quinn," said Washingdone, "He's just saved the day in the Quadratic Equation team - they were stuck on a really hard batch of equations and your elephant just strolled into the room and solved them all in an hour. It's buns all round."
The elephant became essential to every part of the business. Consequently, it remained at work when Quinn went home, seemingly working a 24/7 week.
The following day Quinn was called into the Director General's office.
"I'm afraid we'll have to make you redundant, Quinn," the Director General said.
"Why?" said Quinn. "I thought the company was doing well."
"It is Quinn, but it's the elephant. He needs a desk, and yours is in the perfect location, right next to the banana grove."
"The elephant! You mean my elephant?"
"It's not your elephant, Quinn. It's the corporate elephant, now get out before I call the security elephant to throw you out."