No Armada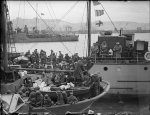 Fri, 21 Jul 2017
1 likes
No Armada
Smacks, tugboats, pleasure yachts,
in the dawn, the mulberry-coloured dawn.
Sails unfurled or diesel thrumming,
they assemble in shoals.
The little boats,
the last of Little England,
before it was an insult.
The butcher, the baker, the candlestick-maker,
the banker, the fisherman and the fisherman's friends:
the owl and the pussy cat and three men in a boat.
The long and the short and the tall.
This motley crew,
these yeomen,
St Crispin's best-beloved's rightful heirs,
sailing, chugging, against the wind,
against the tide.
And on the sand,
Yorkshire Tommies singing
how they like to be beside the seaside.
There is no brass band:
the pom pom is the blast of bombs
while the hornet buzz of the stuka
plays counter point.
Each boat takes so many more
than ever they should, or did, or would again.
Had they gunwales, they'd be deep in the water.
A retreat? A defeat?
Perhaps.
Defiance in defeat:
so rare a thing,
such bravery
from little, little boats.