There's no such thing as Global Warming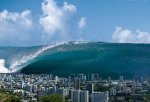 Wed, 03 Jan 2018
A wave came,
no warning.
Shocked from tremors,
tending traumas in the streets,
they searched for neighbours in rubble. 
A terrible day,
an earthquake…
Then water.
Unexpected.
No sounding of alarms, 
no police, no army,
nothing to tell them
Evacuate!
It was too late.
He told the interviewer:
"I caught a rail.
Held fast as the ocean gushed past.
I saw cars,
I saw bikes,
I saw bodies...
I saw babies.
I lifted them to the top
placed them on stricken debris,
praying they would be swept to safety."
5 million affected,
dead or injured,
lost their homes,
starving and isolated.
Did you ever lose something?
A watch? Your wallet?
A treasured ring?
Your photos?
Your child's paintings?
What was the last thing you lost?
What was the cost?
Global warming -
is it a thing?
Scientists speculate sea level's rising.
Greater surges to come,
storms intensifying.
More lives lost,
more homes gone.
The earth is rebelling
trying to take back it's shores.
Failing to heed the weather,
we should be ceasing.
Cries to slow emissions,
instead, we're increasing.
Pumping hot gasses in our greenhouse,
surprised when we're wilting. 
Are we listening to warnings,
or what our leaders say?
insisting global warming can't be real
because It's cold today.