School  (Automatic poem)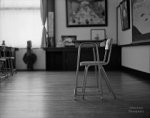 Sat, 25 Nov 2017
1 likes
I unfold my memory;
my misery;
a time table crushed and torn;
each dirty tear, a new subject of pain.
The blackboard of tarmac
and chalk of my face.
Firstly the geography
in which I am hopelessly lost;
the mountain of pavements
and corridoors;
the jungle of bodies; their landslide to school;
its current of kicking and shoving and tripping
that hack their way through me as I trudge on
and rivers of spittle that run down my spine;
that shatter my pangean heart
into small, lonely islands
of misery
and fear.
Then languages;
the knuckled punctuation marks,
pronounced with crunch of hawked up spit;
spittle calligraphy writing out hate
upon me
and a vocabulary of racist slurs
until I knew my proper name
and to reply with
silence.
Next maths;
the calculated blows;
names repeated like tables;
the subtraction of self confidence;
the addition of scars
or piling up of punches
and long division of my heart
till my head was like a hard sum
and only a fraction
of me
remained.
Then P.E.;
how to keep my head down low;
how to roll myself into a ball;
how to go numb at the sound of laughter;
how to be a football and a punchbag
and get used to falling
and falling on my
face.
And all these things are taught so well;
engraved in me like hearts in a desk,
that forget them, I never will;
that they strangle me still like an old school tie;
make my face a uniform of fear;
fear that rings inside me like a school bell
so till this day I have not grown inside;
so till this day I still have nightmares
about school.