Alternative Prayer of Remembrance, Easter 2018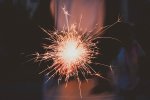 Sun, 01 Apr 2018
Let us remember the old fuckers
who fell by the wayside:
The duckers and divers
the shirkers and skivers
the ones who danced like they just didn't care
the sad-eyed wallflowers who were not quite all there
The matrons and the mothers
the cheeky hows-your-fathers
the vilified and unstable
tethered to the chopping table
The head shaking mirth-merchants
who chased the golden goose
the mincers and misers
who stewed in their own juice
The hoodwinked whipworms
loitering by the gate
the just about managing
licking gravy off their plate
The ostlers and tinkers
the mordant and forbidden
the wizards of enchantment
who misplaced all their rhythm
The ones who, when duty called,
turned on their heels and ran
the ones who slept in fear
of the bogey man
Let us say hallelujah
for the old fuckers who fell by the wayside.
The dotards and the divas
the Saturday morning cleaners
the space cadets and x-ray girls
who wore with pride their desi-curls
The wing bats and hard hats
bob cats and desert rats
the psychedelic neutron stars
who carried moonbeams in their jars
The wise old maids who span their yarns
while sons and lovers slept in thrashing barns
the diddies and the doddies
who lived life off their trolleys
The panjandrums slumped in an empty room
the lost dogs barking at the moon
the razor-clad sharpies who skinned the frog
and baked their souls in a suet of fog
The holy folk who broke their bread
and, when God didn't answer, worshipped meth
   instead
Let us say hallelujah
for the old fuckers who fell by the wayside.
Amen.