I'm Not Disappointed, I'm Just Angry Chapter 3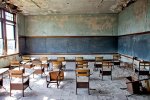 Wed, 18 Jul 2018
November 2004
After weeks of shadowing students, watching other people teach things and popping back to Uni on a Friday for a half day to talk about our experiences and catch up on who's shagging who (and act surprised when they say I'm shagging someone/someone else) the time comes for my first proper lesson that I have to do solo. At this stage I can either do the whole thing or just a warm-up activity or 'starter'. The whole point of a starter is that it should last about 10 minutes and enable the students to feel prepared for what's coming next by consolidating their previous learning. I ignore all of this and instead go for some horrible mashed potato and ice-cream hybrid of the two. Greg James would have a coronary if he hasn't already and if he has I'm sorry but if he hasn't I don't care that you were a greengrocer. I have to prepare a lesson for a bunch of Year 9 middle ability students. Smart but lazy. In need of a firm hand. This is a good test and I feel like I'm being backed by D as they are, after all, his class and his responsibility.
I have to teach them creative writing in preparation for a 45 minute question on their GCSE papers – a full 2 years away which, to a teenager, is as about as important as manners. But who better than I to show them the wonders of a carefully crafted noun phrase? The voluptuous fullness of a perfectly executed subordinate clause? They will be stunned from their interwebs and Sega Zeldadrivers.
The first thing I learn from my first proper lesson (apart from the fact that Year 9 are shit at being creative) and hastily forget is escalation. In years to come I fumblingly explain this to English students in terms of how Lennie has to die in 'Of Mice and Men' or he would steadily get worse and worse and draw a ham-fisted comparison with how someone should have put me out of my misery. Huh kids? Haha. Huh kids? Whose tumbleweed is that? But in this instance my infinitely patient mentor tells me that behaviour management is not picking on the same kid repeatedly and saying his name in different tones of exasperation and volume. 'Bradley.' 'Bradley.' 'BRADLEY!!!!' (His name was Ivor.) There needs to be an increasing scale of consequence so the child can know the effects of their behaviour and be safe in the fact that their and others' behaviour will be dealt with consistently and fairly so all are encouraged to behave and learn. I dismiss this immediately. My rose-tinted 11 years in Irish education overtakes the 3 months of half days' worth of learning I've done in sunny Uni. The excuses run through my head when I should really be listening and writing down what this highly experienced professional is desperately trying to inject into my neaderthalic scone. Why can't they just do what I ask them? I think. I always did. I forget the little doppelganger shit who sat and read Rambo books under the desk in Technology, the one who asked the more buxom of teachers to come check his work regularly so they would bend over the table and he could check God's work droolingly. Why would they not want to engage in my lesson? I've said we're going to do some creative writing. I've written one sentence on the board which is creative (in Swedish by the way so everyone knows how smart I am and that I have a Swedish girlfriend because that's what teaching is all about: me and how amazingly cool I am) and then I've set them off writing for 30 minutes. Why is the Head not battering down the door and laying prostrate at my feet begging for a fifty minute lecture on pedagogy?
D asks me that fateful question all mentors must, 'So what did they learn?' I reply confidently, 'They learned creative writing'. His wonky eye struggles to another compass point. North north West. This isn't good. 'I mean what did they learn that they couldn't already do in Year 3?' Damn you Socrates and your ingenious questioning! D is forced to deliver the classic 'shit sandwich' of feedback so has to tell me something that I've done well too. He says that I was confident and that I could be heard from the back of the class. This is the teacher equivalent of being told, 'Well done, you've written from the margin and didn't tell me to shove my work up my fat arse.' I nod and realise I have a long way to go, without fully or truly realising just how far.
That's not to say that there weren't some high points during this first placement experience that I will never forget. One in particular stands out where one of my mentor teachers and I made lingering eye contact across a silent class. It was spectacular. It was earth shattering. I mouthed 'They're all working!' and she mouthed back 'I know!' with equal amounts pride and astonishment. I was a terrible trainee but there were some truly golden moments that kept me going through darker times ahead.