Aura (28)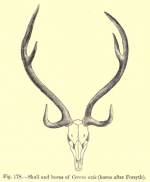 Thu, 06 Dec 2018
A clutch of empty miniature wine and whisky bottles lay amongst the paper on the floor. An open bottle of champagne sat in a bucket of melted ice. He made it to bed that night. The binge was in full swing. Sleep at these times was usually a black-out unbroken by images and night auras but in the darkness of the hotel room his eyelids fluttered and he found himself standing amongst trees.
He stepped forward. Branches snapped underfoot. There was an opening in the ground further ahead. A perfect black hole. It did not seem of this world.  
Winking lights floated within the void. He made towards it, glancing around. Ashen snowflakes were dancing amongst the trunks. Amongst a grove of trees he saw a deer. Its head was bowed and it was licking at a red puddle in the snow.
Flakes settled on his shoulders. Gillis saw the deer's wings unfold. Strange, gauzy things. He ran for the hole. As he passed through it a black screen rippled and closed around him. 
There was a high-pitched vibration in his ears. He groped. Walking was slow. It was like walking through wax. He pushed. Pushed through the sticky envelope.
He was in a tunnel. The darkness was absolute. The walls were close. He placed a hand on the earthen lining to reassure himself, place himself in space, and something scuttled across it.
He walked for miles through the inky passage. He felt the air change and the space around him shift and expand. The tunnel had opened out. It was an enormous underground city.
He was standing on a vast wooden bridge. It spanned a deep drop. Water churned far beneath. He edged further out onto the bridge. He clutched at wooden supports and pulled himself across. In the distance he could see muddy walls rising like cliffs around the overpass.
Abruptly the frame of the bridge bent upright and he could walk no further. A suited man sat at this junction, swinging his legs off the edge. Gillis looked at him, then looked up. The 'bridge' continued to bend and twist far above him, forming angular buildings in which more people sat. Men, women and children. Pale, sunken-eyed. These little wooden huts - all strange, geometric shapes - were sealed off with chicken-wire fencing.
The water roared far below. The suited man near him glanced up. His eye sockets were empty.  
'What is this place?' Gillis asked. There was weight in the spoken words. They hung and distorted in the air. The people in the odd wooden buildings above rustled and peered.
The man beside him looked down into the abyss. 
'This was where people were,' he muttered.
Something flared and died within Gillis. He sat down beside the suited man. 
They sat together a long time. Gillis grew old, small, and frail. Centuries passed. Ashy snowflakes blew down the tunnel, shrouding the underground city. The wooden bridge grew and twisted around them. Thousands of people sat alone in their little angular buildings as the world changed and passed into something else.
*
When he woke in bedsheets sticky with piss he felt so utterly desolate and so far removed from the world that he was unable to move save to sob softly and stare at the two panels of window light sieved through the curtains as if it were the last light left in the hearts of man, expiring in pale slats over the floor.
He sat up and drained the last of the champagne bottle. His hands rattled furiously. No food for two days. He checked his phone. Swiped the missed call notifications away. 
The battery was low. Google maps was still active. His head stung and he winced. Lifted the screen up.
Applecross Peninsula.
He blinked. Wiped his eyes. Cracked a wine bottle. Drank.
The man talking to mummy whilst she was in bed. 
She heard him in the house. 
He only came at night. He had a soft voice. 
His eyes filled again. He saw Mina; tired, red-eyed, angry. Avoiding his eyes. The more he considered it, the more he realised that she very rarely looked him in the eye.
Phone records pulled. 
Random withheld numbers on both lines. Odd hours.
Several calls from Applecross.
Clicking her fingers. Weird rhythmic tics. 
Sitting with him on the bench. Staying with him.
He did nothing for anyone. He was always apologising.
' ...some weird cunts up in the sticks... '
He had stopped being part of the world a long time ago.
Sort it out.
Dust motes moved amongst the rectangles of light cast across the floor. He stood, walked to the bathroom, and threw his phone in the toilet. He showered, changed into a fresh suit, emptied the mini-bar into his travel bag, and checked out.
*
Weaving between commuters at Waverley Station, he checked the departures board. 10:36 to Inverness. He rushed to the ticket office. Evil sweats and shakes. Brain melting. He purchased a single. Made for the toilets. Hurled yellow bile. Shat liquid. Necked three mini-bottles in the cubicle, felt the rattle ease.
He slept the whole way to Inverness, undisturbed by visions.
*
Inverness was dour, rainy. He rented a cheap Corsa from Arnold Clark's. He forced down a burger at McDonald's. He picked up a backpack, an LED torch and a few hip flasks from the Eastgate Centre, transferred the miniature bottles into the flasks, stocked up at a whisky shop, and hit the road. 
The sat nav chimed sporadic, terse directions. The road to the west coast was long and winding. Dusk closed in and rain cut down in sheets. The landscape became bleak and mountainous. High, peat-clad moorland. Clusters of rugged peaks. Astral rock units eighty million years in the making, borne of shifting crustal plates, volcanic and metamorphic rock.
He eased into passing places and sunk shots. Tried to trigger that weird, fucked focus. The Corsa struggled with hairpin mountainside bends. He rolled past glacial erratic boulders. Scree slopes and debris cones. Grassy rises split with pale grey weathering sill. Valleys once ice-gouged fjords. 
He was aware something had slipped inside of him. He was afraid. But it was also a release. It was freeing. He was so far from his awful living room, his sofa, his lamp, his inability to be part of the world, he felt he had crossed into another plane of existence.
He passed the Applecross sign. Long-abandoned beaches and wave-cut platforms unfolded below the road. Raindrops battered the windscreen. He drove up to the Applecross Inn and pulled into the car park. Sat and listened to the kinetic rattle on the roof of the car. He felt it. Lang Ayre, Sullom Voe. He felt that same preternatural spark. It felt right. If it felt right because he'd been three days mashed and his mind was unravelling, so be it. It was the end of all things either way.
He gulped from a hip flask. Checked his wallet. 
Pulling his suit jacket over his head, he ran through the rain to the Inn.
*
He spent the first night drinking in his room. Slept through the day. The following evening he took the Corsa out and scoured the streets. He found the public phone box round the corner from the Inn, outside a small cottage with a stone fence. A grubby BT kiosk, bird shit smeared down the glass. He huddled inside, shrugged his backpack off, pulled a file copy out and checked the number listed above the payphone.
A match. A brief surge in his chest. The kiosk would have changed over the years, but the number remained. He paced out of the phone box and scanned the road beyond. A scattering of houses gave way to a tunnel of woodland, trees pressing at the roadside. 
Rain had segued into snowfall. Winter was coming. He ran back to the car. He drove past the banks of trees, squinting into the massed boughs. He did not know what he was looking for. It was present only as a feeling and ultimately this was the only life he knew. He re-filled the hip flasks, took constant top-ups. Tried to bury the thought of Mina and CS Blair and MacPhee in Inverness and whoever the fuck might be worrying about him. Cut it all out. A knife cut. A straight line from 1988 to 2016.
He hit the beach, trekking a four-mile footpath snaking across the hills to reach it. He sprayed the torch over stretches of sand and pebble. Velvet water lashed at rocky inlets. He strode through whirling snowflakes. He clambered up rises, looking for sewerage pipes, openings, as if he was trying to lift Sullom Voe and place it into Applecross twenty-eight years later.
He kept at it. He slept during the day. He woke up, spewed and drank. He canvassed the area every night. He ignored dodgy looks from the innkeeper and her staff. None of it mattered now. He filled his flasks and hit single track roads, hit the crofting townships nearby. His nerves were numbed. He overdid it. He stalled the Corsa, veered wildly into passing places as headlights appeared. Nights became a blur of wilderness. Moorland. Trees. Rivers. Snow-fringed purple peaks skewering the skyline. He roamed fields, ducked down and snuck up to remote houses. He stumbled and slurred to himself. He began to feel lonely. 
You want to be one of the peaceful ones.
He kept coming back to the woods. The tunnel of trees beyond the phone box. Whether it was an inkling guided by form and shape, the memories of underground passageways strewn across decades, or something stubborn or intuitive or divine it stuck. He sat in a passing place drinking and scoping the wall of trees, stepping out intermittently to piss into them. He thought of Mina and the bench in the park beneath the Pleasance Theatre. He thought of kindness and patience. He thought that maybe it was a good thing to feel lonely.
We're not out yet.
It was early December. He had been in Applecross for two weeks. He was hunkered down in his passing-place, smoking and shivering, when a jeep passed him and turned off the road down a small dirt track hedged by dense trees.
He jolted up, peering through the mesh of snowflakes. He swigged and toyed with options. He didn't know how conspicuous he was, slumped in a passing place within a haze of snow. The dirt track was almost an optical illusion; the jeep had seemed to disappear into a wall of trees. 
He considered turning round and driving back to the inn. Making his way back to the woods on foot. It was a weird place to be parked. It looked like a stake-out. He drained the hip-flask. His skin felt itchy. Impatience got the better of him. He twisted a scarf round his neck and buttoned his jacket up.
Flakes swirled as he cracked the door and stepped out. He opened the passenger seat, retrieved his backpack, and shrugged it on. The jagged boughs of the trees on either side of the road seemed to reach out and bind, interlock above him as he clipped over to the pathway, as if he would look up and see a puzzlebox ceiling of intricately thatched branches.
He swayed as he walked. White vapour sifted from his cracked lips. He turned onto the dirt track and clicked his torch on briefly, trying to gauge distance. It was impossible. Trees massed, all sharps branches and twisting trunks, as if there were wiry limbs and gangly, stooped frames in the black haze of the forest; as if the night was peeling apart, and inside it were damned souls ingested and suspended in a beeswax of eternal darkness.
He ventured in, treading on the edge of the path, sticking close to the trees. He felt like he was walking for hours, crunching through bracken, twigs and choppy powder. His shoes left indentations in the snow. He shivered, swigged from a flask, hissed hazy curlicues. His thoughts were muddy and confused. He wondered fleetingly if it was ever actually possible to be happy. If it was okay to need to spend so much time alone. If it was acceptable or if it hurt people. And if the objective was not to hurt people, surely it made sense not to spend time with them. Can't win either way. And you have nothing in the end. Or -
You met good people. Bright lights. You had that time.
You want to be one of the bright lights.
Is it even okay to think about these things? 
At least you're fucking outside. There's always that.
The pathway opened up and he slid into the trees fringing it. There was a steep slope further ahead and he scoped the area below. Detail leafed out amongst the snow: A clearing. A winding burn. The remains of a stone house. A small outhouse. The jeep.