The Love of the Loveless (Chapter 2) (3)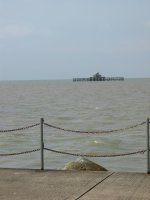 Mon, 25 Feb 2019
      By ten to four, everyone had gone home and it was just the end-of-day tidying and wind-down.  Most of the staff were sitting around the main table, as usual - finishing off paperwork, drinking last cups of coffee, chit-chatting about their day, and their intentions for the evening.  A tone of end-of-week chirpiness was in the air.  Phil and Nova shut the office and came and joined in.  It sounded like a few of them were meeting up later for a beer.  It was Friday, after all.  A couple of days off.  Good hangover recovery time.
      As usual, I sat on the periphery listening in.  Occasionally I'd put in a word or two - if there was a gap or if someone looked my way, which wasn't often.  It was something I'd grown used to over the years.  With a couple of people, I could be part of the conversational centre of gravity.  If it was around five or six, I was a marginal participant.  With anything more than about eight people, I was just a spectator - even if I had something pertinent to add.  It had been the same from schooldays onwards, and I'd never really understood why (again, until the diagnosis).  I used to sit and study people to see what it was I was missing.  Was it tone of voice?  Facial expression?  Familiarity of subject matter?  Or was I simply not a likeable enough person?  It had always felt like other people were privy to some secret that was none of my business.  Even in situations where no one knew each other at the beginning - evening classes I'd been to, for instance, or training courses - I'd usually ended up the lone wolf.  It didn't bother me so much now.  I understood it better.  And I was happy enough to sit and observe. Part of me wondered, with this group, if it was the age factor.  In spite of not looking my age, or acting it, I was still older than the other staff by a few years.  Many years in a lot of cases.  The closest to me was Sue, who was fifty-two and had been at Pennethorne Manor since leaving school, so knew everyone and everything about the place.  Then there was Gary, who had turned fifty in March.  We had a drinks night at The Viking to celebrate - handy for me, as it wasn't far to walk home.  Gary was always a centre of attention.  He played lead guitar in a local rock band, Pump, and had a blonde cropped mohican with intricate mandala tattoos above both ears.  He'd spent many years in his youth nomading in India, North Africa, the US and Australia - playing music, dossing, sampling a variety of substances - so he always had plenty of stuff to tell.  His music and style naturally kept him in with the younger crowd.
      Maybe it was just my condition.
      At one minute to four, the hubbub was still in full throng.  The moment the long hand on the clock hit the four, though, people were standing up and gathering their things together, heading towards the door.  As we filed out, Bob sidled up next to me.
      "What you up to at the weekend, William?"
      He was the only one who ever called me William.  It was kind of a term of endearment, I think.  Even mum only ever used the diminutive.
      "Mum's birthday on Sunday, so we're going out for a family meal."
      He looked at me with a straight face.
      "Looking forward to that, eh?"
      He knew a couple of things.  He was one of the few I confided in.  He was also one of the few who'd taken a genuine interest when I mentioned my Asperger's.  His sister had it, too.  He knew the score.
      "Sister and hubby going to be there, I guess."
      "Yes."
      He nodded his head.
      "How old will she be?"
      "Ninety-three."
      "Blimey!  Good age, eh?  They made 'em to last in those days."
      "I hope so."
      He tapped my arm.
      "Oh, well.  Enjoy it anyway."
      "I'll try."
      I went down the side of the Centre and unlocked my bike from the patio fence, then cycled down the long route to the road, past the lake and the rehabilitation unit.  Across the grounds, at the main house, I could see the usual large group of wheelchairs at the smoking shelter - residents and staff alike having a puff and a chatter in the sun.  It struck me then, as it so often did, how special the place was.  The house itself was a vast neoclassical edifice, set in nineteen acres of parkland which included a small boating lake and an outdoor theatre.  It was built as the family home of a wealthy Victorian banker with clear delusions of grandeur and far more money than sense.  The charity had acquired it sometime in the 1950s, when the family fortunes had finally dried up.  The house itself was the main residential block, with the coach house used for residents with learning disabilities.  Other bits had been added over the years - including the Centre where I was based: an agglomeration of wooden cabins, laid out almost like a Swiss chalet. The place had an indefinable feel to it - shut off as it was behind high parkland walls on the outskirts of town, away from the main pitch and sway of life.  When I cycled in the main entrance in the mornings, it was like entering another zone of existence altogether.  It felt safe and inviting, like it was in its own bubble.  Here you are, it seemed to be whispering, along its tree-lined pathways, around its walls, through its winding passages.  It's alright here.  You're safe again now.  I'd never felt that in a place of work before.  In all the care jobs I'd taken in those ten years since it all went wrong - dad's death, the divorce, the breakdown, the need to break out of the old life and find something else before it was too late - this was the one where I felt settled. 
      Ten years already.  It seemed almost impossible.  So much happening.  Maybe that, too, was a natural aspect of getting older - the way that time seemed to telescope down.  As a kid and a teen, it all seemed so large and far away.  A great long highway, winding off through a Claudian landscape of mountains and valleys to a far distant horizon - so far and so distant it was barely possible to discern the point where the land ended and the sky began.  Now, that horizon seemed firmly in view.  I couldn't see beyond it, but I knew it was there - some days seeming closer than others, like the way light refraction makes distant objects look far closer than they are.  Like that pier head I could see from my window, which some days seemed so far and tiny, and other days seemed so close that I could almost pick out individual details. I looked back at the distance I'd covered - some of the mountains I'd scaled.  I wondered about some of those forks I'd reached.  Those other paths I could have taken, but didn't.  If there were parallel universes out there, maybe things had turned out differently after all.  Maybe nothing in my past had been lost. 
      Maybe one day I'd find out.