Tower of Strength (IP) Part 2 of 4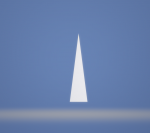 Thu, 25 Apr 2019
    'Where are you going?' demanded Mrs Brenton, as Councillor Todd attempted to extricate himself from chair and table legs.
    'I must go and see what's happening.  I'm an officer of the Council.  It's my duty to help.'
    'Help who do what?' demanded Mrs Brenton.  'Convince a load of hysterical people a stainless steel tower can't be alive?  Sit down, and I'll phone the police.'  She took her mobile from her handbag.
    Councillor Todd hesitated.  One of the fleeing women outside fell on the cobbles, and seeing the faces staring at her from the window, scrambled into the tea shop on her hands and knees.  The waitress closed the door firmly after her.
    Councillor Todd helped the woman to a chair.  'What happened?'
    The woman's eyes were wide and brimming with tears.  'It opened.'
    'What opened?  The Tower?'
    The woman nodded and gripped Councillor Todd's hand.  'There were a big flash, and it cracked open, and all these arms came out.'
    'Arms?' said Councillor Todd.
    'This woman says arms came out of it,' said Mrs Brenton into her mobile.  'No, I haven't seen it.  For heaven's sake, I don't know the nature of the incident.  Just send someone.'  She put her phone down on the table and frowned at it, as if it were being particularly unhelpful.
    'Arms,' said the woman.  'Like, tentacle things.  All bright and shiny.  With fingers on the end.  And this figure.'
    'What figure?' asked Councillor Todd. 
    The woman hiccupped.  'Enormous.  Like a giant.  All glowing.  Like…like…that thing with all the snakes on its head.'
    Councillor Todd looked helplessly at his sister, who had always been the reader in the family.
    'The Medusa,' said Mrs Brenton.
    The woman nodded and closed her eyes.
    Councillor Todd squared his shoulders.  'Whatever's going on here, I have a duty to the city. I'm going to have a look.'
    Mrs Brenton wore the expression of an older sister whose little brother needs rescuing from himself.  'Oh honestly. Can't you just wait for the police?'
    'No, I can't.  I have a duty.'
    Mrs Brenton sighed.  'For heaven's sake.  Come on then.  Let's get on with it.  You first.'
    Outside, the crowd had disappeared, with only the odd straggler limping up the cobbles with terror in their eyes.  To the left of them was the silent market, stalls disarranged and abandoned in the rampage.  To the right, where Patrick Pool led along to Church Street, a child's buggy, empty and overturned, sprawled desolately in the gutter. The door of the Valhalla Bar opened a crack and a face peered out.  Then there was a hoarse yell of 'Shut it!', the head jerked back and the door was slammed.
    'Can you smell that?' said Mrs Brenton.
    Councillor Todd sniffed the air. 'It's like…'
    'Metal railings on a hot day,' she said.
    Councillor Todd looked at his sister curiously.  'I don't think I've ever sniffed metal railings on a hot day.'
    'Look at that sky.' 
    Councillor Todd looked up.   A thick, undulating layer of goose-down cloud brooded over them.  Behind it, they could see faint, brief, scintillations of light, like arcing currents between giant synapses.
    Mrs Brenton suddenly put her hand on his arm.  They were about to come out into Parliament Street.  'Eric…'
    'Do you want to stay here?' he said, gently.
    She stared at him.  'Of course I don't want to stay here!  I want you to stay here.'
    'I've got a duty.'
    'So have I.  Mum would kill me.  Look after the little sod, she always said.  He might be a twerp, but he's your twerp.'
    Councillor Todd looked put out.  'I always knew you were the favourite.'
    'Me the favourite?  You were the favourite.  If I'd have been the favourite, she'd have told you to look after me.'
    Councillor Todd opened his mouth to reply, but was interrupted by a stentorian yowl that invaded their bones and percolated through the empty market stalls, impregnating the stones themselves with yearning.
    Mrs Brenton shivered.
    Councillor Todd covered her hand with his own unsteady one.  'It'll be all right, Deirdre.  After all, what they're saying, it can't be true.  It's a load of nonsense.  Must be.'
    She managed a thin smile.  Far away, a police siren sounded.  'Of course it's nonsense.  Pure nonsense.  Come on lad.  What are we waiting for?'
    They rounded the corner.
    'Oh my God,' said Mrs Brenton.