???? …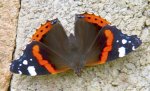 Tue, 18 Jun 2019
How does a caterpillar change
and all its innards rearrange
into a dainty butterfly?
How do the swallows navigate
vast distances as they migrate
around the earth, across the sky?
How does a programmed human egg
develop, forming brain and leg,
and wonders of the working eye?
The more they research DNA,
and spacecraft venture far away,
the 'how's may often mystify –
some things beyond our comprehension lie.
[IP: secrets]