The Pigeon Variant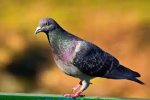 Tue, 03 Sep 2019
1 likes
https://soundcloud.com/user-881984782/the-pigeon-variant
1.
When the Head of Marketing caught wind of me turning into a pigeon, she tried to take advantage by calling a meeting. "This serendipitous commercial opportunity," she announced, full of smiles. On and on she went. "Raymond can become our Marketing Pigeon," she said, pointing to me at the end of the table. "He can deliver our new branding and messaging to customers. Social will love it too as it's so… retro." That's how she saw my mutation, as a quaint tool to "win new business". The Finance Director, who I reported into, pointed out that pigeons are prone to releasing their bowels in unfortunate places. The Head of Marketing pulled one of those 'Eeeuw' expressions, twisting her mouth at the notion of white splashes and unsavoury smells. "What about a tiny nappy?" she said. "No, I don't think that'd work," replied the FD. The Sales Director, who described himself as a 'Disruptor' on social, noted that pigeon droppings are supposed to bring good luck. He then said, "I'm just thinking aloud here but would it be possible to feed him in such a way that his droppings were coloured 'on-brand'?" They liked the idea, nodding and grinning to themselves. I had worked for these people for ten-and-a-half years as a low-grade finance assistant. I'd raised purchase orders, processed expenses, done bank recs and collections to keep the cash flowing. I'd sat at my desk for over a decade, sending emails, making and answering calls and producing time-sensitive reports that no-one read. I had gone on team-building exercises in Surrey, Essex and Bedfordshire. I'd returned from cheap holidays abroad with bad confectionary for my colleagues. All along, I'd suspected that I was as disposable as a toothbrush and here was the proof. "This could be the differentiation we need," said the CEO, eating supermarket sushi with a fork. Not once did they think to ask me what I thought so I stared out of the window. Our office was four floors up and I had a view of council flats and houses. The uneven sprawl of rooftops was only punctuated by the obelisk spire of a church. A couple of pigeons appeared on the window ledge. They had oily, rainbow coloured necks and black streaks on their wings. Their heads bobbed back and forth on the other side of the glass, cooing. As much as I tried, I simply couldn't picture myself as one of them. It was as if the doctor had described a condition for another person. Not me. It couldn't be me. The Human Resources Director put the kybosh on the Marketing Pigeon idea, saying that "from a health and safety perspective, we'd never gain permission from the landlord for keeping a pigeon on the premises". You see, we leased our offices and, on top of that, it was highly unlikely customers would accept a pigeon into their offices either, even if I was decked in a marketing approved outfit and my droppings were on-brand. "I can't allow this," the HRD concluded, shaking her head gravely. The CEO went for an upbeat approach. "Let's go away and have a think," he said. "I'm sure we can find a solution." The Head of Marketing turned to me and said, "How long do you have?" I shrugged. "You must have an idea?" she pushed. It was difficult for me to say out loud what I was experiencing without getting upset. I told them that my transition could be as little as 3 weeks but no longer than six. The Sales Director whistled and said, "Jesus, that's fast." The Head of Marketing nodded and smiled. "There you have it – if we are to go ahead with this, we need to decide this week as I'll have to talk to our designer, our photographer, we'll have to create a film and decide our social campaign, and then order the materials. It takes planning. I can't just pull this out of thin air." The CEO finished the sushi and swigged from a plastic bottle that had the words 'zen water' on the side. "We'll make a decision but I have a 2 o'clock so let's find a slot for tomorrow," he said. None of them moved. I realised they were going to continue the conversation once I had left the room. "Can I ask a question?" I said to the four of them. There was an awkward delay and finally the CEO said, "Go on then." I felt like I was doing something wrong by asking but I did anyway, saying, "Will I get paid?" The CEO leaned back in his chair, swigging the last drops of his water. The other three waited for him to speak. The only noise was of the pigeons cooing on the windowsill. I felt like they were chanting, "Leave. Leave. Leave." As the Head of Marketing went to speak, the HRD cut in and said, "This is the kind of thing I'm referring to – the Government has brought in new legislation relating to human-avian transitions, stating that paid employment and benefits, including pensions, must come to an end. As I understand it, even State benefits are null and void once the transformation is diagnosed." The Head of Marketing said, "But what if we paid him in bird food?" And the Sales Director said, "Yes, and a cage – we could buy him a nice shiny cage, with a mirror, couldn't we? Or is it only budgies that like mirrors? Or parrots?" The HRD was agitated. "Legally," she said, "we are prohibited from employing birds and I've told you once already that we could not keep him in the office as our contract for these premises stipulates no birds allowed." The CEO screwed the lid back onto the empty bottle. "Lots to mull over and discuss, then," he said, looking at me in such a manner that I realised I wasn't to ask a second question. I obediently shuffled out, leaving the grown-ups to it.
2.
No one seems to take the news in the way I expected. People are funny like that. If you pre-empt a certain reaction or response, you can guarantee that's not how it'll unfold. Like, when I told my girlfriend, Donna, about my diagnosis, she did the longest sigh you've ever heard, saying, "Leave it out, Raymond – I don't need this with everything else going on at the moment, what with mum in hospital and starting my new job." I tried to explain that I had limited say over my body and she'd seen the countless stories about the mutations. "But a pigeon, Raymond – why'd you have to be a pigeon? Why couldn't you be a hawk or an eagle or a kestrel or something?" She acted like I'd gone and done it on purpose, like it was part of some elaborate ploy to mess up her plans. "I'm supposed to be going away with the girls. It's difficult enough with mum not knowing what day of the week it is without this carry on. I'm not cancelling the holiday. No chance." I sat in the armchair as she hung clothes on the clothes horse. I had imagined her bursting into tears and hugging me, maybe telling me we should get married and try again for a child. I should have known better. Donna wasn't the crying type. I realised that in all likelihood she'd be on holiday when I died as a man and was reborn as a bird. I said to her, "Don't you want to stay with me until the end?" She took items of clothing from the plastic basket and carefully draped them over the bars. "It's not that simple," she said. "The girls have told me that I'll go doolally if I don't take this break. It's alright for you, you can fly off and disappear, whereas muggings here will be the one left with the bills, having to sort everything out." My head was muddled. I wasn't altogether sure what would come out of my mouth if I replied. I put on my jacket and shoes and went for a stroll. It was evening and I sat on a bench in the park, opposite the bandstand and a row of sycamore trees. The sky was smeared a brilliant, creamy pink. Teenagers hung-around on the bandstand, listening to music on one of their phones, drinking and smoking, oblivious to celestial sunsets. It had been raining earlier and the air had that woody, creosote smell to it you sometimes get at the backend of summer.
3.
In my first meeting with Derek – some random Case Worker assigned to me for the transition – I wanted to know if pigeons had a sense of smell. "One hundred and ten percent, they do," he assured me. "But where are their noses?" I replied. He patted me on the shoulder. "Either side of their beak," he said, "two little holes." I wasn't convinced by what he was telling me. I've only met him three times and I'm pretty sure he was half-cut for two of them. "Does it hurt?" I asked him. "Does what hurt?" he said. "The mutation," I replied. He slapped me on the back. "Oh yeah, you'll scream the house down. It's total agony and there's claret and what-not everywhere." I knew this to be true already from reading up about it on the internet and watching a film that the Government tried to ban. "But you know," he went on, "in some ways I envy you and what you'll gain." I asked him to explain what he meant as I saw absolutely nothing positive in these evolutionary shenanigans. "Pigeons are a collective," he said. "From the Taj Mahal to the Great Wall of China to Trafalgar Square, you'll see them together, searching for food and finding shelter as one. Pigeons don't fight one another. They don't lie and deceive. They stick together and live for the group. How many of us can say we have that belonging in our lives?" I like to think that what Derek said is true. I'll be part of a whole. A feathery tribe of outcasts.
4.
Often, I go to the park and sit on my favourite bench, watching the pigeons, seeing them grouped together, scavenging. I tell myself it could be a kind of paradise, being one of them. If they accept me that is. What if natural born pigeons reject the ones that were once human? There could be a caste system in place. Anything's possible. I suggested to Donna that she keep me as a pet. She pulled an 'Eeeuw' expression and told me how birds "creep her out" and it'd be weird having me around if she found another fella. I'll probably fly away. Take my chances in a hostile world. It's coming. I can feel the feathers ready to pierce through my itchy skin. Hot tiny spikes. The pigeons sense I'm close to transition. They follow me around. Sit on my window ledge, cooing, "Join us. Join us. Join us." I'll forget my past when I transform. Without history, I'm nobody. It's similar to what's going on with Donna's mum, except at least you recognise her from her appearance, even if she is a stranger to herself. I won't be Raymond when the time comes. Departed mind. Body. Spirit. Maybe not spirit. Who can say? I try to prepare myself mentally, rehearsing my mutation scream. I'm getting pretty good. I really am…The CEO and Head of Marketing came up with a solution, saying they had "pulled some strings" and I could be their Marketing Pigeon. I told them to get stuffed… Donna's on her holiday in the sun with the girls. So, I'm spending my last days and nights as a man by myself. Fitting really. There's no-one else. Parents – long gone… Never there… And somewhere, a sister… Nowhere… I tell myself that I should enjoy the peace and quiet while I can. The pleasure of solitude is what makes us. That ability to be alone with our thoughts. Carried away by dreams and memories. That's how we live, not together but on our own. Different to loneliness. It's coming. Hissing and snapping. Drooling. Excretions unbranded. Feathers ruffled by impossible contortions. Nature turning me inside out. Speaking to cooing. Walking to flying. Very soon now.