There is hope here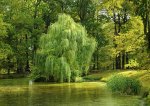 Wed, 08 Jan 2020
The willow trees shake their early catkins
and wake the bees who hum their religion
from the droops of antiseptic branches.
The willow trees talk to the moon
in midnight murmurs of watery dreams,
and nests of eggs sheltered, hidden and 
pearly, in the higher reaches of their crowns.
The willow trees bend their grievances
until no wind could levitate these leaves
of sorrow, and at the pinnacle 
of their suffering they still declare
an allegiance to tomorrow 
because hope waits there.
Image from pixabay.