The Loneliness of a Cicada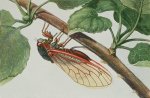 Sat, 13 Jun 2020
1 likes
My voice might put out the sun;
cicadas find their own words at dusk too,
in harsh hisses
for a common understanding.
Maybe they sing to be seen,
having been lonely
in the becoming of themselves - 
a childhood in the dark.
A solitary nymph is lost
to ligneous dreams, the blood
of the xylem that made them
flows its transformation onwards
in hoarse pulses of fear and wonder,
fattens them on the poetry of trees.
Perhaps we all cast off our histories,
a little in love with our new sap-born wings,
we harden into our songs
and weaken the branches that bear us,
that we must return to. 
 
Picture is in the public domain. Also image on twitter from here: 
https://commons.m.wikimedia.org/wiki/File:Omoda_Seiju_-_Cicada_-_Google_Art_Project.jpg