The Case Of The Disappearing Sock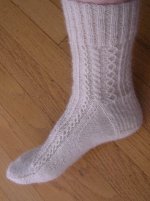 Sat, 27 Jun 2020
1 likes
I employed Hercule Poirot,
Miss Marple and Sherlock
to solve the eternal mystery
of the disappearing sock.
I talk of it in the singular
as I have its twin brother.
It won't be much use to me
if I haven't got the other.
Maybe I could compromise
and wear an unmatched pair
but they'd look ridiculous
and everyone would stare.
I watch the rinse and spin
with my eyes transfixed:
I want to find out why
my socks are so jinxed.
The drum revolves at speed
and all I can see is suds.
I am a bit apprehensive
as I also hear some thuds.
And when the machine stops
I know what I shall face:
the sought-after item
has vanished without trace.
© Luigi Pagano 2012