Under the Redwoods...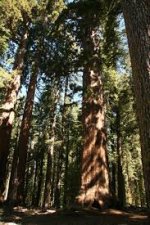 Wed, 15 Jul 2020
My hand upon it; I feel its warmth; its rough bark is pliant under my hand. I feel the breeze as the branches above move with the wind. I look up and smile as a lone leaf drifts down onto my shoulder.
It is beauty; it is alive. It stands tall and proud and timeless and breathes life for us.
I have always felt an affinity with trees. I dont know why but standing among them, I am calmed. What it is about these towering, natural companions I cannot say; I only know I feel safe and comforted when I rest against their base. The birds must feel it too for they build their homes upon its branches.
These sentinels welcome me in every season.Their new leaves wave at me in the Spring. Their full, green canopies provide cool shade on a warm, summer's day.
In Fall, their leaves rain down into fiery pools of color we're meant to walk through. In winter, the winds shake their branches bare but these sentries are undeterred; defying the greyest, stormiest skies, they proudly define resilience.  
These giants of bark and leaf bring serenity to my soul as I walk among the redwoods and listen to their soft hello.