After Dark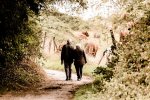 Thu, 01 Oct 2020
Secrets of the night
shared with you,
something we
both enjoy to do,
warbling on
for hours and hours
like chiff chaffs
in perfect togetherness,
with lamps dimmed low
wondering about ifs and buts,
whispers of gentle sighs in
smiling eyes were ours to feel.
You knew in world that passed us by
I couldn't help flitting to a different guy,
when that male unicorn came along
his horn locked on to me,
didn't give myself time to think
just flirted like a peacock in ecstasy,
my colours were sometimes bohemian
like spirit...youthful and free,
loving to dance I'd be like
the greater bird of paradise,
head of hair flying everywhere
chasing my dreams without a care,
till at last you hooked me,
knew I'd found my
life companion to be
in those moments after dark.
Image by pixabay free.