At The East Lake Where I'm Often Drunk, Thoroughly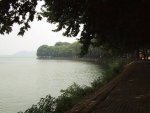 Mon, 09 Nov 2020
1 likes
Make a run for cherry blossom season once all the books are closed
Tourists on campus marvel at bubblegum webs while military drills
Ring out in the courtyards, the future of the nation at work while
Others play basketball.
I never stopped being a stranger, but here I am, mapless and bold
With a face that grows unremittingly old.
Walk past the disreputable DVD stall where I found last week
Deep Throat (dubbed in Mandarin and German and not a single subtitle)
And over there the restaurant of the elite where I once ate sweet pork
With the college president who all the local gangsters answer to.
A student waves to me, that blond one who never comes to class,
And who gifted me once with a sword from the Wudang Mountains;
What a cynical arrangement it is that he might just pass.
Stop at my daily seller to find his freezer empty,
Hot tinnies only!
But the kind man smiles, goes to his van and personal icebox
And out he brings five frozen bottles – unevenly labelled Tsingtao;
I cheer at the frosted green glass, knowing full and well
How untrustworthy the contents.
Henhao.  Xiexie.
Outside campus where little roads bend and curl around the East Lake
Sun-blasted worms fail to wriggle beneath me and an accidental loon
Moans high above somewhere in the trees – nature is constrained here.
And strangers are the birds.
Hold a bottle up to the forehead for coolness and walk
To the little bridge by the water where I sit and get plastered
Most if not every day since we parted.
Alone with the bobbing and fluttering of beetles and hornets
And other multi-coloured heat-seeking missiles
And the shouts of a fisherman on the lake who I don't think
Is drowning
I begin to relax and settle in my home away from home
Away from home away from....
Stop!
Beer.
It's true I never stopped being a stranger like that loon in the trees
Not even at dinner with your mother when she smiled
And though I didn't quite understand everything she said
There was clearly pride in the way she looked at you
Her only daughter.
 Oh, if you could see me now...
Here at the East Lake, settled
A kind of peace is possible far from home
I am that loon in the trees, a well-known stranger in town
Friend to the beetles and hornets and hopefully soon
Among all the fishermen unwilling to drown.