Oak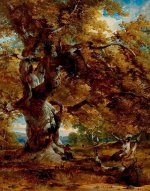 Tue, 10 Nov 2020
1 likes
For the oak, there is no remedy
for humanity; every tree speaks its history
from creation myth to the fall
of an arboreal empire,
in watery conversation held
between wind and leaf
before the amber losses 
of November and the long promise
entrusted to each acorn.
It is overheard by Bechstein's bat
who feigns sleep in a cavity of bark
and the pied flycatcher who subsists
in its green temple. It tells
how once it was born from the umbilicus
of a man, or perhaps it was, itself, 
the knot-branched mother 
of the first person - an Adam
of an older faith, dependent
on the tilt of your perspective.
Either way, it is still a sacrifice 
to be venerated; any need-fire 
must burn with irony, or for a man -
the bitterness of a foliate crown
bestowed upon him as a blooded king.
I am not as strong as an oak and 
nor do I envy it, though I, too,
have seen my complicity 
in my own suffering. Never mind,
I say, under the strike of mistletoe,
death keeps no memories,
roots wither beneath empty boughs. 
Image is from wikimedia commons: https://commons.m.wikimedia.org/wiki/File:Henry_Dawson_-_The_Major_Oak.jpg
Also on Twitter - https://commons.m.wikimedia.org/wiki/File:Brehms_Tierleben._Allgemeine_kunde_des_Tierreichs_(1911)_(19791465044).jpg
https://commons.m.wikimedia.org/wiki/File:November_-_a_man_knocking_acorns_out_of_oak-trees_-_Book_of_hours_Simon_de_Varie_-_KB_74_G37a_-_098r_det_randv_1.jpg
https://commons.m.wikimedia.org/wiki/File:James_Stark_-_The_Forest_Oak.jpg
https://commons.m.wikimedia.org/wiki/File:Ficedula_hypoleuca_-Wood_of_Cree_Nature_Reserve,_Scotland_-male-8a.jpg#mw-jump-to-license