Hibernal Solstice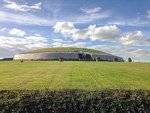 Wed, 16 Dec 2020
Dark winter dawn
broken by shards
of sunlight beckoning
the shortest day.
A diurnal heraldry
calling Jupiter and Saturn,
a Christmas star
forged by skies.
Midwinter monument,
Newgrange tomb aligned,
watches the death and
rebirth of sun Gods.
Ancient stones await
on Wiltshire plains.
Silent solar winds
traverse empyrean Heavens.
Durrington Walls host
Neolithic ghosts,
feasting, animals mating,
crops being blessed.
Poles tilt once more,
light commanding night,
on a perpetual journey
negotiated through millennia.
Since the advent of time.
Footnotes:
Image at https://upload.wikimedia.org/wikipedia/commons/thumb/0/0f/Irelands_history.jpg/220px-Irelands_history.jpg. Free for public use.
Newgrange is a prehistoric monument in Ireland. Its entrance is aligned with the rising sun on the Winter Solstice. Stonehenge is configured to correlate with the sun setting at this time of year.