Letters in the attic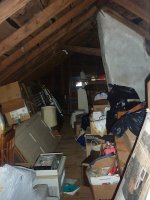 Mon, 15 Feb 2021
8th October 1988
Dear Mike,
Well the first week of University has been a blast. As you rightly predicted there has been a lot of drinking. You'll find enclosed a pic of me taken with the Polaroid instant camera you kindly gave me as a parting gift, the pic was taken by my flatmate Wayne. Can you tell I'm a bit pissed in it?  Well I guess the can of Tenants Super in my hand is a bit of a giveaway, as is the fact that I let it be taken with my shirt off. It was a wild night, and I was just so hot when we got back to my room. But I was determined to get a pic taken to send to you. 
How's things back home? I have to say I'm not missing Derby at all.  I'm sorry your grades weren't up to scratch but the bank job doesn't sound that bad really, lots of chances for promotion I'm sure and it's not like you have to do the job for life is it?
The course is going well, I think engineering really could be my thing you know?  I'm not talking about the stuff my Dad does, that's not really engineering, more manufacturing and making things. Nothing wrong with that of course, he's kept a roof over our heads which hasn't been easy but it's not proper engineering. Not what I'm interested in. If they ever get this channel tunnel sorted that'll be the real fun. 
I'm rambling I know, but there's so much to tell you about what's been going on here. I've met a load of people. I can't really call them friends yet but they're good drinking buddies. Wayne, the guy who took the pic for instance. He's studying media so God knows how we've ended up together so much of the time but he's a good laugh. He does say some funny things though sometimes. We were staggering back last week after the latest SU pub crawl 'Carnage' and he whispered in my ear "If you were gay I'd kiss you".  I'm not sure if he was telling me that he was gay or what. 
Of course I've not told anyone about what happened during our last D of E expedition in the Summer, we've never really talked properly about it have we?  It goes without saying that I really enjoy our time together. In fact, the whole summer was great fun. I hope you can come up and visit soon, you'll like (some of) my new mates and you can always sleep in my room.... I've heard the floor is really comfortable (joke!).
I think I've written more in this letter than I have for my last essay about the Tacoma Narrows Bridge disaster, I hope you are able to write back soon, and maybe I can include another picture next time if you'd like?
Best wishes,
James
#
15th November 1988
Dear Mike,
Well, I bet the first thing you've done is look at the pic I've sent. I know I would if you ever get off that lazy arse of yours and work out a way to send one to me!  Do you recognise the boxers? I'm amazed you haven't missed them, I stole them out of your rucksack on the last day of the  expedition. I was so nervous in case you spotted that I had nicked them.  I had to wait until I got to uni to put them in the wash here, you know how nosy my mam is.  Wayne thought it would be a good laugh to take the pic with me in them.  He sort of knows a bit about us, but he's totally cool about things, he's explained to me that what we've done (so far!) isn't illegal but I still wouldn't want to explain it to my parents or the police, would you?  I guess if it got out too it could cause problems with your job, though how anyone at the bank would find out unless you tell them I can't think.  I have to talk to someone though in-between our letters.  I do worry about what people may say if and when they do find out about us. As you know we were never told anything about this at school. Even before this stupid Section 28 law comes into force in May, Wood Green Sixth form is hardly a hotbed of sexual radicalism was it?
You asked a lot of questions in your last letter. Let's see if I can answer them.
I really wasn't criticising the jobs that our parents do.  It's just that I don't see it as 'proper' engineering.  It's hard to explain but when you come up I'll sneak you into the class workshops here and you can see. They're not dirty and smelling of oil like Dad's factory did.  Remember when he took us into work on a Saturday morning when he was doing overtime. And there's definitely no Sam Fox calendars around or dirty postcards on the noticeboard either.
No, I've not joined any clubs or societies.  You know that I'm not that sociable.  I did go to a Gay Soc meeting with Wayne, just to see what it was like but no, it's not for me, not yet anyhow.  I've even drifted away from a lot of my drinking buddies now the hard graft has started.  Well, I say hard graft - it's just five hours of lectures each week and some practical workshops.  But exam time is looming, I'll have to revise over Christmas but I'm sure we will have lots of time to get together... if you want that is of course.
I was confused James, you seemed to like the picture I sent you last time and indeed dared me to send "something more revealing", your words there.  But you never mention what happened over the summer, and I don't know what you think of us.  Is there an us? I'm still struggling to understand why you won't head up to see me here, Newcastle is hardly the end of the world is it, it's a single train journey. I'm not saying it's the only reason why I picked this Uni, but I did hope that you would be able to make it up here at least once in a term.
Look, I'm not pressuring you (well, maybe a little). But maybe we can work out when I come back for Christmas where we are?  I certainly don't want to do anything daft like talk about this to my parents and I'm sure that you don't want to either... but if what we did over the summer is going to be more than a one off between us, and I really hope it isn't as I want to take it further when are able to, then I need to know. 
Your other questions, Wayne is not really camp, in a group he is really quiet, and only comes out of his shell when we're together in his room or mine. He's also a bloody good photographer, you're holding the proof in your hands. He's asked me to pose for some photos for him, I've said no so far, but it's nice to be asked isn't it?  I'm not sure what sort of photos, but I can guess.  What do you think?  I suspect if I've had a few drinks I may be up for some more 'arty' poses.  I'm certainly not going to have pictures taken like we saw in that Vulcan magazine!  Pictures like that of me in your hands... well that's another matter isn't it?
I'm looking forward to being back home, seeing you and my parents and having a few drinks.  I am absolutely skint though, my student grant ran out a week ago and I'm living on beans on toast and my overdraft until the start of the year. I'm sure you're raking it in, so can I mooch off you drinks-wise when I am back home?
Love
James
#
25th January 1989
Dear Mike,
Well your last letter got me a bit worked up, in a good way of course. It was also very naughty in content, in fact I'm surprised the envelope didn't catch fire!  I liked the sketch you sent (on bank headed notepaper!), but would have much preferred to have seen what you had drawn in the flesh of course.
It was great to see you over Christmas. We clearly drank far too much that Friday. I have no memory of how I ended up in your parent's spare room bed, though I have a vague recollection of you coming in during the night with a big glass of water and making sure I drank at least some of it.  It was good of your mom to bring me that early morning cuppa, but I'm really glad that she hadn't knocked the door half an hour before!
There are two parts to this letter.  Hopefully the first will lead to the second. 
Firstly, I hope you enjoy the pic that I have sent. I've put it in a separate envelope inside the letter. This is partly so that I can tease you a little as well as the practical step of ensuring you don't rip the letter open at the breakfast table and have a picture of me starkers fluttering down into your coco pops!  
I was persuaded by Wayne to pose outside for the picture, up on the hill at the back of the student halls, and it was bloody freezing in January, so I blame the weather if the pic doesn't do me justice as it were.  The sun was out, which apparently gave good light.  He also took some with his own camera, though he promised me that he would develop them himself, no worry about them being seen by the girls at SupaSnaps.  We chatted about this over Christmas didn't we and you seemed OK about it, though I did notice you were a little quiet afterwards. You do know that Wayne sees me as just a friend? Well I know there was that comment when we were both pissed during Fresher's week but we hardly knew each other then (Wayne and me of course, we've known each other since forever).
The other thing is a big ask of you I know.  The SU Valentines Ball is in a couple of weeks. I'm not sure how you feel about this but it could be a good time to come up here and well, you know, see the sights. It would be really important for me. I'm not saying we would be all loved up on the night, though I'm sure we'd not be the only two guys going together, but just going to something like this...  Remember the junior school discos when we'd be forced to kiss any girl that we'd been seen even talking to in the previous week?  I remember being dragged to kiss Debbie Duncton and she smelled really funny!  Even then I knew who I'd rather be kissing (it was you, if you hadn't already guessed).  There's also going to be a protest by the Gay Soc against Section 28, it's not clear if it will apply to Uni's,  but it could stop the SU giving advice, and that can't be good can it?
We still have a couple of weeks to sort the logistics (another engineering term I've only just discovered the real meaning of) but I do need to get tickets.  Maybe you could give me a call, the communal phone in the halls of residence is usually answered by someone in the evening and I'm sure someone will get hold of me. 
Love
James
#
[Postcard with 'Views of Newcastle' on obverse, postmark 11th February 1989]
M,
Sorry I missed your call. I've tried to ring a couple of times but no reply. I was in Wayne's room looking at the pics he took. We're cool, right?
Tickets sorted for you know what. See you Friday..
J
#
16th February 1989
Mike,
I know I have some explaining to do.  I hope you'll read this letter through to the end to allow me the opportunity.
Firstly it was great as always to see you on Friday. Of course I wish you had got on better with my friends, especially Wayne.  I don't understand why you were so aggressive.  Was it all the Grolsch you'd drunk on the train up to Newcastle? I really don't know and I don't honestly care.  You can see though why I had to spend more time with Wayne after you were so sarcastic to him, he really is sensitive and he had looked forward to seeing you.  It doesn't matter now of course but he had suggested beforehand that maybe we could have posed together for him for some pics.
You have to admit your hangover on Saturday morning was incredible, and bigger than just the few drink we had had in the SU bar would have indicated.  You know I was only joking about you sleeping on the floor in my room don't you? We've squeezed into a single bed before so I don't know why you were such a jerk and insisted that you used your sleeping bag. Then again, given the state you were in I guess you weren't up for much cuddling. 
And you snore!
I have to say that when I saw you dressed for the Ball I think you looked amazing. I knew you'd brought a suit with you, but that was the first time I'd seen you in a DJ. It blew my socks off, and I know my lounge suit in comparison made me look like I'd hardly bothered.  It wasn't that, but as I kept saying I'm a skint student, I couldn't afford twenty quid to rent a penguin suit and Wayne thought the suit I had worn for my Uni interviews looked fine. 
I know you didn't know anyone at the ball, but you have to admit it was a fun night.  Not as formal as I thought it was going to be, and there were a lot of couples around, maybe we were a little overdressed.  I think you could have been a little more patient (and a bit less aggressive) with the guys on the Gay Soc stand, they were trying to talk to everyone about this awful Section 28 - I don't think they were 'coming onto' you at all, don't you think I would be more aware of that?  That aside, I think you did start to enjoy yourself after a while, after a few drinks anyhow.  The one dance you agreed to, well that was real fun for me, and I know what you said at the time, but I really don't think people were watching us that closely.  They were too engrossed in what they were doing, or wanted to do anyhow.
Maybe we should have gone back to my room at midnight, we were both what our parents would have called 'tiddly' but that would have been the sensible thing to do, but no, we had to keep on going, and that was of course when you grabbed the last of the free glasses of booze.... But why did you pick up the red wine?  We have never drunk wine before, but hey ho.  And again all would have been fine if you hadn't been greedy and tried to grab three glasses, but only had a proper grip on two of them.
The stained shirt is still hanging up on the back of my door, I can see it as I write this.  I had no choice but to go to the loos and try and get the mark out.  And of course Wayne wanted to help, I don't know what had happened to his date, what was his name, Mark? Wayne said he had cried off early with a migraine.
Anyhow, what you saw when you came in.  Wayne intended to dry my trousers on the hand dryer, I wasn't going to stand around in the gents in just my (actually your) boxers, so we went into one of the cubicles.  I'm not sure what you think you heard, but it was not what you thought.  Even now I still think you overreacted and storming off like that did nobody any good.
Where did you go and where did you spend the night?  I've spoken to the warden at the student digs who told me you woke him up to let you into my room to get your bag.  A really good excuse that, telling him I'd been taken to hospital and you had to get some things for me, otherwise I'm sure he wouldn't have let you in.  Did you really spend all night at the train station?  I found your note on the bed asking where I was, I'd had to stay with Wayne as he was more pissed than either of us, chucking up everywhere.  
So, I'm sorry. I'm sorry you had such a lousy time, and I'm sorry that my stupid actions were part of that reason.  I just wanted our first Valentine's to be special, like all the other couples we've seen over the years.
Please write back, or even better tell me I can come down to see you, I don't mind missing a few lectures if it gets us back on track.
Love always
James
#
The preceding letters were found in the attic of the parents of Mike Harper as part of an evidence search for incident reference 2019/06/1335D.
Despite exhaustive attempts by the police to identify 'James', the officers have not been able to trace any school friends of Mr Harper with that name. Discussion with Mr Harper's husband has failed to elicit any further information and this line of investigation is closed.