Daffodils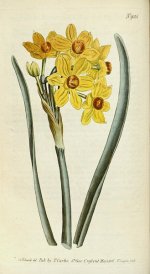 Tue, 09 Mar 2021
We present the dead
with flowers - Zoai
for those who have lost
the war of life. 
These blooms will wither
in turn, to their own grave,
strewn across the dimming
of another personal history,
just as Spring ushers 
the end of Winter.
Everything has a conclusion;
a grey that clouds in increments,
but the colour of all beginnings 
is yellow, of the luteous bells
of daffodils that rise
from the ashes of dormancy.
Once, hidden, dividing
in a conspiracy of renewal - 
they are almost brash
in their sudden show 
of contrast - brave and bright
on the indecision of March.
There is unease to any adjustment;
the pain of transience, yet
the wisdom of the Narcissus 
is to look, to hope, for luck,
for death; the generosity 
of tomorrow - again, again,
and begin again, a future
that we could trust
to the blossom of another dawn.
Image is from here: https://commons.m.wikimedia.org/wiki/File:Narcissus_tazetta_Ker_Gawl..jpg
Also on Twitter: https://commons.m.wikimedia.org/wiki/File:Illustration_Narcissus_poeticus0.jpg#mw-jump-to-license