Hilda On Sabbatical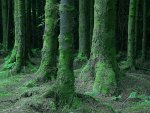 Thu, 29 Apr 2021
And there coming up the small access road to the senator's: a car, one of those tiny Volkswagen dinkies.
Oh great.  More incoming mulligans. 
He wondered how the bastard was able to lure them all in like that.  He must have had advertisements plastered all over the papers.  How would you even advertise such a thing?  Come out here to us, will ye.  We'll have you well and good.  Phone this number.  We have our very own beardy fucking gobshite villain.  What the hell did they even do down there?  Titty-flicks?  Probably.  Drugs?  For sure.  Prancing about like a pack of pricks?  Definitely.  A life of lark and debauchery.  Wasn't it just well for some!
Out to his left, Moloney heard the rustling of leaves and branches and a snort not unlike those Hilda tended to make, and when he looked to the wood, he saw a familiar flash of pig-pink between the trees. 
Strange.  Had he left the paddock open?  Of course he hadn't.  He remembered clearly nicking his thumb on that damn lock.  Could Hilda have gotten out and over the hills and in front of him?  And so fast?  Not on your nelly.
But... 
Moloney huffed.  You could never tell with the sow of all sows.  His other pigs were simple in how they went about, simple like that old tractor tyre in the yard, reliably there every day doing the same bloody thing.  But Hilda was nothing short of a pain in the hole that refused to lie about the place like an old tractor tyre or anything else of comparable simplicity. 
He looked down at the house of Elder and nodded intently saying to himself I'll get you again.  Then he tightened his gun strap and started off down the hill in the direction of the wood.  The Oul Lass was surely blessing herself in the clouds and running off to God to request intervention.
Within spitting distance of the first row of trees – and he knew this to be true from testing it – Moloney called out HUROOSH in the hope that if it was Hilda he'd seen she would hear his voice and instinctively waddle out of the wilderness to meet him for dragging home.  She did not.  He held for a moment in apprehension at the edge of the woodlands, the leaves of the outermost tree reaching out and touching his nose, and he listened for sounds; but he heard only a deep uncaring silence.  He got a sense of much mugginess and doom beyond the trees so he breathed in the last of the mild air.
It was somewhat dark in the wood, a gloaming; some light rolled in like white columns in a cathedral but it only emphasised the drained yellow of the leaves and primeval lines on the tree trunks, not helping one bit to temper the otherworldliness of the place.  The trees had fallen in on one another, as they had looked to him from the hill, broken-backed and entangled like a reunion of old bones, and now up close and under them you could see it wasn't a happy reunion, for branches were pulled and stretched and fractured in the embrace.   Oh, those poets in the eastern towns might have found pretty words to describe this conspicuous grove but they weren't used to filth the way Moloney was, genuine organic filth, so they were inclined to paint pictures from cock-eyed romanticism.  What he as an honest country monitor saw was a woodland that appeared to be tethered to some hideous disease, the floor blighted by enormous rotten puffballs that looked like the scabs on a coalman's hands when he took off his gloves, gluey sap dripping from trees like pus from an infected wound, and ill-at-ease fern everywhere, fronds all turned and wrinkled and brown like the pages of an ancient bible after undergoing its very own baptism.  They couldn't be graceful fairies who lived here, little majesties in white.  They'd have to be mucky ones, little fuckers with razorblade wands and spells that would have you as a stoat in an instant.  Or a shrew.    
The bog back there was paradise in light of this rotten place and he'd come to it in lieu of titty-flicks and national justice so he decided there and then to make this deviation quick and if it was Hilda on sabbatical and she failed to show soon then to hell with the hog.
Huroosh!
Huroosh!
Image: Wikimedia Commons