Bluebells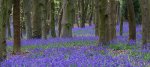 Mon, 26 Apr 2021
Bluebells are so fleeting - 
a river cut through shade
that runs dry 
before the end of May.
They show an understorey 
the colours of a sky, 
sweet, wind-washed,
assuage
in chimes of violet dusk,
only to tear it away. 
How they nod 
their yes, yes, yes
of purple reassurance 
in the absence of light.
Hope is dreadful,
is the death of yesterdays 
poured into the promise
of tomorrows: 
I hope, I hope, I hope.
Hope has tested
the nerve endings of my solitude
to the ache of doubt.
Image is from here: https://commons.m.wikimedia.org/wiki/File:Pryor%27s_Wood_Bluebells_2017-04-22-2.jpg