Certain Backlash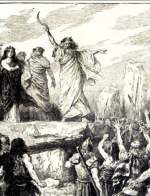 Wed, 19 May 2021
One man's effable is another man's ineffable.  In Catholic Ireland, there was only one mystery you could talk about and you had better be absolutely unambiguous in your efforts to do so.  Contemplating those more unorthodox avenues to transcendence required some commitment from a person.  Expect backlash from all sides with your appeals to unwonted understanding.  To the subcultures you were likely to be sent with your human potential movement, it would have to make good its potential in the shadows, even now in a moment when esotericism appeared to have more latitude.  For Elder, he had left public office at a time when the mainstream was embracing the transcendent – communes were cropping up all over the world, countless books on spiritualism now bestsellers, countless gurus now superstars – but mainstream thinking hadn't fully accepted it all yet.  For the most part, the trend was retted in whimsy, a kink hobby for the middle class, drawing mostly derision from the wider populace. 
Elder wondered about the coming 1980s.  How it would all level out.  He was hopeful.  He envisioned a New Man soon entering the public sphere.  One who would trigger the levelling of things.  A revolution in the national consciousness that would extend then beyond the nation.  And could you not sort out all that hassle up north while you're at it, oh coming New Man?  
Elder hoped the time would come soon when the pendulum would swing back in favour of free spirits and it would be sceptics who'd find themselves pounced on once more, and disavowed, and chucked out of things.   But for now, he would have to wait like everyone else, suffer the certain backlash, and take advantage of the commercial opportunities the current period offered.
And the backlash wasn't limited to reputation in society.
Olga left him in '74 and went back to Sweden, just in time to see her compatriots Abba win the Eurovision song contest with Waterloo; the subsequent rise to fame of that band had since galled Elder somewhat, but not enough for him to ban the blonde pop stars from the house or anything – his displeasure was clear however if one of their songs ever came on the radio, especially that particular winning entry of theirs, for it reminded him of a great defeat in his life that he had not anticipated.  He had not predicted Olga's leaving him for their partnership had seemed impregnable.  Polemically, they were matched and no dispute had ever come to blows, and in his years as a statesman she stood by him, even supporting his forays in the soft porn industry.  But Olga came from a long line of Swedish realists, a lineage which began with the philosopher Hägerstrom, and like that great ancestor, she rejected metaphysical weaving.  Elder's losing his seat in the senate was bad enough for her but his increasing flights of fancy built up and soon...the final straw: she walked out the door and drove off for the last time during his appearance on The Late Late Show 'confirming' the Longford Leopard Man theory. 
So it took its toll on you, transcendence did. 
Elder often asked himself:  how does one fight against the backlash of patricians and their plebeian squires? 
He understood it to be pre-emption.  Imagining all refutation to come and stuffing the narrative forthwith, dressing it up in a tolerable form.  Some degree of manipulation was necessary.  Full-on duplicity if everything else failed.  But more importantly – proof!  What could be more effective in quashing all scepticism than actual proof?      
Aphrodisiacs and electronic voices were not all Elder had been dabbling in of late.  He had, since the bog man's retrieval, taken to druidic study and was introducing by subterfuge unusual mantras and spells into seminars with the hope of awakening their sleeping guest, all of this to the blind ignorance of even his most faithful followers.  When Kindred Eye members were in suitably numb states of mesmerisation, incantations were slowly whispered, seduction spells, spells to prompt insight and climax, spells for remembering and forgetting, spells to produce stinginess and distrust – he was careful not to perform spells which deviated wholly from behaviours and traits he had already witnessed in the group, so as not to attract attention.  MacKenna was the only one aware of what Elder was up to since it was he who had put the idea in the man's head, and he was unwavering in his contention that the druids of Ireland had not been magical, nor prone to murderous rituals as in other lands.  Elder simply disagreed.
He had always believed he was a descendant of druids, a notion given to him by his grandmother, Una Hagerty, a known mystic and bean feasa in her time, who filled her grandson with great affection for the irrational and illogical.  A notorious contrarian, she taught him the old ways, more cunning approaches to living, and before attending university he was well-trained in destabilisation tactics, triangulation, and sincerity strategems, all of which enabled him to grow in prominence at Trinity College.
It was his grandmother who informed him how the druids of Ireland were responsible for, among other things, the invention of winking.  Not blinking now – that was of course an involuntary and essential function of the eye – but winking, which was an act of design, a suggestive facial expression.  The first winks were not well-meaning private moments communicating jest, solidarity, or affection, as winks would later evolve to become.  They were hexes, curses.  A wink from a druid at any given time could bring about deep melancholia in a person, or death, or merely a fit of the runs, depending on how well the druid knew you.  He remembered getting chills whenever he saw his grandmother wink, usually directing it at unwanted visitors to her home, an unsavoury family member, or ill-mannered or ill-attired guest, and following the wink she would turn to the boy Elder and smile gently, knowing that he now knew what was what.  Mrs. Hagerty also taught him how certain druids had cursed Ireland to its centuries of invasion and strife, in response to the country defecting to Christianity.  St Patrick himself knew of this curse, but chose not to make it public – for fear of inevitable backlash. 
Whatever it was they brought to the land, prosperity or malediction, Elder had it in his head he was supervising a second coming of sorts.  He was the right man for the job, he felt.
Like he, the druids had held public office themselves, they were the servants of kings.  And through the ages, they were overthrown by new philosophies which sought to sack the old Gods, burn defiant texts, and deny the existence of magic.  Driven underground they were.  Just as he was. 
Was there any man better for the job?
Image: wikimedia commons