Love Letters From The Past S.W.A.L.K.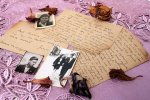 Mon, 23 Aug 2021
Words stand alone...some framed in brackets, billions of islands only connected by dashes and hyphens that bridge gap between right way and wrong; ink is the ocean as pen rides the waves of emotion, voices spoken so long ago, were whispered tokens of love;
written into the very fabric of our existence, like the many stars embedded in space above. Passionate hearts once beating, sealed with a loving kiss; vibrations though deeply silent jolting thoughts, so slight and papery; you'd hardly have time to capture their essence,
compelling smiles magnified, bursting from pages of romantic novels, trembling energy behind glassy eyes that long for prominent glimmering memories, but for the tick of clock that altered roads, now different healing blooms in baffling complex jungle as time moves on.
Back in early years, pleased not to have gone astray with you; though dreamy mist danced all around, in fact sixth sense emanated that there was no fear of getting lost; or were odds on our side, making tracks to who knows where? No fear of being swallowed up by danger.
Impulse snaps you back to reality like breaking twigs, short cuts to happy lustrous silence of showers in green woods; but where over time discovering ourselves afresh slipping away in communication, letters received...again re-establishing bond of feeling to an old loved one who's gone away.
Pixabay free image.