Take It or Leave It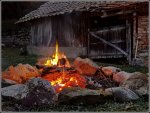 Sun, 14 Nov 2021
1 likes
I love to see the sun come up through early morning mist.
I quite enjoy a pint or two without ever getting pissed.
I like to walk around the town, my wife upon my wrist
And then go home and try my hand as a gynaecologist.
I can't abide that Chelsea lot or Manchester United,
Or noisy little bonfire squibs whenever they're ignited.
I have no time for all those folks who've pompously been knighted
And politicians who close their eyes to wrongs that should be righted.
Oh how I love my two big dogs and seven little cats,
And all the food I shouldn't eat with saturated fats.
I love the Beatles, Rolling Stones, the Who, the Kinks and that's
A sign that I am getting old and going slightly bats.
I disagree with fossil fuels and nuclear reactors.
I'm not a fan of Hollyoaks, of Strictly or X Factor.
Years ago my teacher saw my loathing of protractors.
I hated all the maths she taught and hoped her boss had sacked her.
I just adore when we explore the mountains and the coast.
It makes me ill when Brussels sprouts are served with Sunday roast.
A roaring fire with wine and friends is what I like the most,
But get irate at the letters page in the Yorkshire Evening Post.
There's one small thing I often sit and think about all night.
When I tell you this I know you'll say my head isn't quite right.
I've discussed it with our local shrink and now I think I might
Be the only person in the world who can take or leave Marmite.
Image: Created by myself. It's an image of a roaring fire that was also created by myself.