Momijigari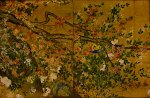 Fri, 03 Dec 2021
1 likes
Poem 8 (extra) for Day 7 of National Tree Week. A little one for Cat on Twitter because she asked for a poem about Japanese Maples and she's a very special person so am squeezing in an extra one for her. Momijigari is the Japanese tradition of maple-leaf hunting in Autumn, communing with nature and the spirits of the forest. Maple leaves are also known as frogs' hands in Japan - isn't that perfect?
We walk through fire,
the tracks of deer, 
frogs' hands carmine 
and freed from branches,
we are raising the dead,
but if we wish to know
how to live,
we must ask the trees. 
Image is from here: https://commons.m.wikimedia.org/wiki/File:MAPLE_CHISHAKU-IN.JPG