Saint Valentine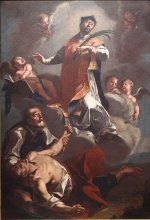 Tue, 15 Feb 2022
Audio version at https://soundcloud.com/user-62051685/saint-valentine-mp3
Saint Valentine
On a day of hearts and roses,
San Valentino loved all, canonised;
a skull crowned with flowers,
sleeping bones below catacombs.
This pious bishop tested in law
to return sight to the blind,
penance of idols ordered broken,
the salvation of souls – baptised.
Selfless offer of Christian redemption
cast out by a faithless son of empire,
condemned to a martyr's death,
a final dispatch sent as scroll,
solemn words etched in blood,
which read for the rest of time:
"from your Valentine".
Footnote:
St Valentine was a Saint from the third Century commemorated in Western Christianity on February 14th and in Eastern Orthodoxy on July 6th. As well as being associated with courtly love, he is also the Patron Saint of the city of Terni, epilepsy and beekeepers.
Image free to use at https://en.wikipedia.org/wiki/File:Valentin_Metzinger_-_Sv._Valentin.jpg