Stories I won't tell you.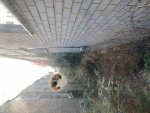 Tue, 10 May 2022
Dada, what kind of baby was I?
Do you remember me from back then?
Was I terrible or was I just…
I don't know, just tell me how it feels?
How it feels? Darling, it was mostly
oh fuck. Not again. I can't do this.
I can't cry in Costa, hope that the
CCTV cuts out just before
the woman with too many freckles
with good intentions but rapeseed eyes
can cut out my tongue with dumb kindness.
It felt like…no more.
No more leaving your mother in the
waiting room, no more lip wobbles, drops,
in my stomach, no more four six eight
breathing, grounding routines, fistfuls of
sertraline for the good days; whiskey,
razor blades and diazepam for
the bad. No more fear of phantom texts
saying you are gone.
How could you just go?
What do I tell the family and
your brothers at the school gates again?
Will they buy the superhero line?
I can't immerse myself again there,
in inundations of human pain,
where they snap their necks at a wet cough.
Where helpful signs declare 'Bereavement
office has moved next to Pharmacy.'
Wonder if they keep the thoughts on file?
Cabinets jam packed with soft regret.
A surgeon mutters, 'What a day' and
it comes pouring out of me, every
fucker looking as I leave but that's
the truth of it my love, the dug in
day to day dosage.
Subcutaneous.
How did it feel? That's what you asked me.
It feels like walking from A and E
with an empty car seat.