green serene thoughts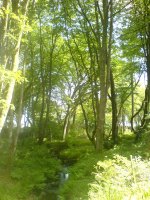 Thu, 30 Jun 2022
2 likes
Bird-breast soft, white clouds nestle egg-round hills
across calm, mist dimmed sea way's blue between.
Pavement's happy elephant skin, warm, still
sleeping all the way from home to woods in
afternoon sun. Sandstone walls bask, pale gold 
under grey, blue, purple slates and chimneys
for centuries aerially patrolled
by herring gulls riding high westerlies.
At road's turn down to the beach, shade spread wide
trees wait to welcome; rubble path cobbling
clay's slicky stick. Woods' water's dark-sleeks slide
under in an old pipe to sea's coupling.
Steep slope up, don't slip. Look back, the ferry
carves a curve in the bay. Hear peace begin
by pendant pagodas of treacle berry.
On, up, to long grasses' cling, then bracken
tall-stalked wings overhead, sheer cliff dropping
where a glacier slid, Earth ages gone
to hidden stream. Touch of lush larch now, flopping
fresh-fragile needles' tickle cool, new cone
a tight curled red rimmed frill. On, past stark arch
of rhododendron, amethyst trumpets
call to bumblebees on Summer's sweet search
and into spiney pine trees' scratchy straights
then, Here, unbrooked, through smooth stroked pebbles
bright skeined cold rippling in willow dapples
light, liquid rain-tongue, clear speaking secrets
of sky's closeness has no time for regrets