Syd Abandoned - A Pink Floyd Tale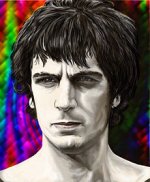 Sat, 29 Oct 2022
One day, because of the madness
his bandmates said they saw in him,
they left him at the roadside instead of picking him up
for the gig.
Poor Syd waited there forever, like a scarecrow
at his own wake, at some forsaken crossroads
of middle England.
His guitar case was like a coffin by his side,
his Hendrix perm wilted in the drizzle,
a psychedelic friend of Godot, he waited 
until well past absurdity, the omission of inclusion
a very Anglo-Saxon treachery,
waiting till he caught up with who he had been before,
though he never did.
When he realised what had happened he was relieved
because the rock star stairs were getting too steep,
so he pondered no more until the bus arrived
and latched on to a crying girl in the queue
heartbroken about something else.
'I've got a bike,' he said michievously.
'You can ride it if you like.'
She smiled at his absurdity but never spoke.
Upstairs on the journey he imagined himself
in one of his nightmare paintings.
'Have you got it yet?' he asked out loud,
only to himself,
then answered lowly 'no'
forever.