They've Closed the Road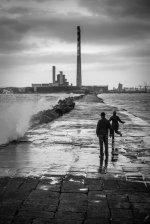 Mon, 07 Nov 2022
1 likes
Have you heard,
they've closed the road.
Black ice reflections deep,
like a mirror from the archives.
We don't want to see
ourselves like that.
There were dragons in our skies.
In the photos, we were lit.
We glowed as fires raged 
down into our roots, leaving
ashes hot enough to solder
hearts forever closed.
All the rocks you threw, 
endure upon the path.
A cairn to mark our end.
We cannot see this through.
The lights that lit our way,
all weakened and gone out.
Scalding rivulets erode,
what seemed once so smooth.
Tears corrode the surface. 
Turn back, do not advance,
there's no way through, 
no passage or deliverance.
This road has made us old.
Together we grew so high
but there's a crosswind 
and we are so tired.
The ditches of the past
are a dangerous place to sleep.