Holly King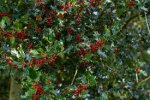 Mon, 28 Nov 2022
Wearing flush of crimson berries,
with pride revels in respect of
slowing down...this restoration
our sacred earth.
Does robin sing your praises
perched; enveloped
between prickly leaves,
telling us to keep at bay?
Oh Holly King you stand guard,
charm is not your way
in these darker days;
when I would embrace medieval
mysteries shrouded in heroic battles.
Hold courage for white Goddess
sees your plight,
while I'm elsewhere in my mind;
excited at wonderment of
this magical time,
silent November wouldn't
deprive me of festive cheer,
those Christmas preparations
gathering colours of
red, green, gold and silver;
before renewal when Oak King
will flourish...sun will rise,
soil will again warm up
and flourish.
The Holly King represents
a time of Peace.
Tho Oak King represents
a time of renewal.
Pixabay free image.