The Glitch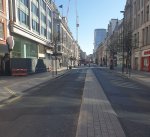 Sat, 24 Dec 2022
1 likes
Some years ago, for a few months, and for reasons I will not go into, I was required to commute to work by taxi. In that time I talked often with a driver by the name of Adnan. Adnan was a large bodied, soft fleshed, gentle man, with an accent far more Macklesfield than Ankara. He was the father to two young girls, whose pictures he kept on his dashboard, and he drove for Uber and other apps in the hours between childcare requirements. He drove me to and from Uxbridge when he was, as he put it, on the Heathrow route – much preferred, I gathered, to the late nights in London, ferrying drunken club-goers through feral traffic.
We talked mostly of history, of which he was a true autodidact. It blew his mind (his words) that we passed so close to where the Magna Carta was signed, and he planned to take his family to the spot in the summer. The one upside to his night shifts was to tour the history of central London. He loved the gates and walls of the old city still living on in street names. He shivered whenever he passed the site of one of Jack the Ripper's murders. He knew the old route to the Tyburn tree, and the place in Shoreditch where Shakespeare was first performed, and the place in Smithfield where Wat Tyler was stabbed. It never ceased to amaze him, he said, that he could just drive past the spot where the English once killed their king.
The last time I talked to him was my last day in the office before Christmas. In the new year I would be able to drive myself again. We talked of our plans for Christmas and he told me he used to treat it as just another day, even worked one year but there were very few passengers, but now his girls were older his family preferred to do the whole English thing: tree, turkey and gifts. There was some accident on the motorway I think, and we got stuck for a long time in traffic. We fell into talking about the Great Fire of London for I had been reading a book about it, and I said I'd been moved by the fate of poor Robert Hubert, the man wrongly executed for starting the fire.
Adnan went very quiet, I remember thinking that maybe I had misremembered my anecdote and that he was embarrassed for me – for he certainly knew a lot more than I did about most subjects. Then he said, "is there a reason why you bring up that man?"
"No reason," I said. "Just that I read that chapter last night."
He was silent again, for a minute at least I think, then he said, "I told you I only drove once on Christmas day because there was not enough work but that is not the whole truth.
"It was when my girls were very small and I had just that year given up my hotel job to drive and money was tight. I had asked some other drivers if it was worthwhile and they told me it was quiet, a few people travelling in the morning, and maybe later some who planned to stay with relatives but changed their minds, but there were not many drivers either, so there was work. They also told me I should beware of the glitch.
"They could not agree which app the glitch affected but they all agreed it only happened on Christmas day. A ride would appear and you would accept it and drive to the pick-up, but when you arrived there was no passenger, and when you looked at the app there was no record of it, as if you had imagined the whole thing. More than one driver told me this had happened to them.
"The day started okay. All the journeys were in the suburbs which is not the most profitable because they are so far apart, but they were paying a bonus so I was making okay money. I did about half a dozen before lunchtime when it went a bit quiet, and I might have driven home if I had not been on the wrong side of the city, but then the app said there was a pick-up from Borough going to Paddington Station.
"We call them 'tactical fares,' the ones that take you where you want to go anyway, and this one was so perfect, taking me almost right on to the Westway, that I thought it was too good to be true and might be the glitch I'd been told about. But sure enough, there was a man in a suit standing, shivering, outside a church just down from London Bridge. He did not talk a lot. He might not have had much English because his accent was very strong. French I think, or maybe Dutch or perhaps even Swedish – I am not very good at accents. He seemed on edge and I guessed there had been an argument just as the turkey was being served and now he was storming back home. I kept quiet. It is obvious when a passenger just wants you to drive.
"Because there was no traffic I took him right through Covent Garden and Soho, and while we were in Soho another ride came up, this one picking up at Marble Arch and dropping off in Greenford, which is almost on my doorstep. Normally I would have just doubled back after the drop off but I was keen to get home and it was right on our route so I asked my passenger if he would mind doubling up.
"I had a lot of trouble making him understand. I tried to make it clear there'd be no delay, and that I'd give him a discount, but I was never sure he really took it in, but he did say Okay so I accepted the ride.
"The pick-up was right on the far side of Marble Arch. You don't really notice how huge that roundabout is till you drive round it with no other traffic. There's like five different sets of traffic lights! I pulled up at the turn off for the Edgware Road, there's no stopping but who was going to complain, and there was nobody there so I told my passenger to get in the front seat because I thought that would be less weird.
"You know how sometimes a sound can cut through the quiet and make it seem even more quiet? That was what the car doors opening and closing did. It echoed around that big space. I had already thought how strange the empty streets were. All those shops and restaurants just waiting. I had this silly idea of the history of it starting to seep up through the gaps between the paving slabs, now it wasn't kept trampled down by people's feet. I think now, maybe that is not so far from what happened.
"When my passenger got in the front seat he said, in his accent, Lock doors please.
"I asked him why of course, but I don't think he knew how to explain it because he just said again Lock doors please. so I did. There was no harm in it."
I noticed Adnan watching me very closely as he told me this. I was sitting next to him in the passenger seat and his eyes kept glancing over as if to gage my reaction.
"Inside the car it suddenly got cold," he said. "There was no reason for it, but I know I did not imagine it because my passenger stuck his hands under his armpits and started shivering again, and after just a moment I could see my breath condense. I put the heater on and it blew very strongly. You could feel the warm air coming out the vents but it barely seemed to help. My fingertips stung it was so cold.
"I said something, What's with the cold? or something, but my passenger didn't react. He was just staring at the wing mirror. I looked and I saw that there was a man standing on the pavement. I didn't get a good look at him in the mirror and when I looked over my shoulder he was gone.
"I asked my passenger if there was someone there and again he didn't react. He was shivering hard and breathing very shallowly but extremely fast. I think he was terrified.
"I was sure I'd seen someone, but I looked all around and there was nothing so I said I was going to check, but my passenger grabbed my arm and said No, again with the accent, just No, and he put his finger to his lips and then pointed it down and behind the car, so as to indicate someone was hiding there.
"I didn't know what was going on at that point but it occurred to me that if I put it the gear lever in reverse then the parking camera would turn on and I could at least see if there was anyone there. The image takes a second to come up and when it did I thought I saw someone, or I saw his leg as he stepped out of view of the camera, but he did not appear elsewhere. There are not supposed to be any blind spots when the camera is on."
Adnan looked directly at me, apparently expecting a response.
"What did you do?" I asked.
"I'd had enough. I said something like I can't hang around while this idiot plays games, and I put the car in forward and went to drive away but the car didn't move. The bonnet lifted but it didn't move, like it was stuck in a hole or something."
"I checked the mirrors and peered down out the window to see if there was anything obstructing the wheels and as I did so something tried to open the driver's door. I actually saw the outside handle flap, the door trying to open itself. That scared me and I think I shrank away from it. Then I heard all the other three doors try to open in quick succession, far too quickly to be a person moving around the car. And if it was a person I would have seen them for sure."
"For a moment we just sat there. I didn't know what to do. Then the car rocked as it it was pushed from the side, and then again but harder and then a third time. It was like when a football mob tries to overturn a police car, rocking it in rhythm, each time pushing it a little further. I tried to go again and this time span the wheels so that they produced a cloud of smoke, and in the smoke I saw a shape. It was a space where the smoke should have been but was not. Right by my window. It moved and the smoke moved around it. It was the shape of a man.
"I put my foot right to the floor then and suddenly we broke free. We shot forwards so fast that I didn't even dare turn and headed straight on down Oxford Street. As I went I could see him in the mirror. Not well. Just well enough to be sure he was there. But behind him, and this was clear because it was big, was a gallows. Three arms on it and nooses hanging down from two of them."
I should say that I was confident Adnan was telling me the truth. I did not know him very well of course, but we had talked often and he never struck me as someone interested in lying. It occurred to me that he might be leading up to some joke, but I never actually believed it. His voice had not changed register except perhaps to indicate an increased seriousness, but it was certainly not camp or dramatic, the way a person might tell a story if they intended to scare the listener.
What I mean is that I was very caught up in the story and at this point exclaimed "Oh God!" in a way that would certainly delight him if he had meant to frighten me, but he did not seem delighted.
"I got," he said, "I don't know... about as far as Bond Street before I stopped the car. I suppose I actually felt a bit stupid as soon as I'd calmed down. Maybe the car did just get hooked in a pot hole and maybe I'd imagined everything else. Maybe there was something there that looked like a gallows if you only caught sight of it in a mirror and were already scarred. I decided to drive my silent passenger a different route to Paddington and then go home.
"I dropped him off in the street, only black cabs are supposed to go into the pick-up area and I was was keen to leave. He thanked me I think, but he was so quiet by then I could hardly hear."
Adnan paused, and the queue of traffic we were in started moving and he seemed to concentrate of driving and there was a silence which, after a minute, I began to find awkward.
"And that was it?" I asked.
"No," he said. "That was not it." Again he fell silent until the traffic jam slowed to a halt a few dozen metres ahead.
"I turned north to pick up the road home," he said. "And as I did I saw something behind the car in the driver's side mirror. It was like when you see the shadow of a bird, or a mouse run between two hiding places. When you look it's already gone. I pulled up and got out and the street was really quiet again, unnaturally quiet. I could hear my footsteps as I walk around the car. And there's something there but I can't see it if I look at it. I can only see it out of the corner of my eye when I look elsewhere so I try to do that. I find this way of looking so I catch a glimpse of it and then I hold it in view while slowly turning toward it and then I can see it properly."
"What was it?" I asked.
"It was a rope," Adnan said. "Tied to the rear axle and trailing behind the car and way back around the corner where I'd come. And it was nasty. Thick and filthy and covered in bristles. Honestly I think the rope was the worst thing of all. When I touched it. When I went to untie it. I instantly knew it was a rope that men had hanged from.
"Of course he must have been following it, and if I hadn't spotted it I was sure he would have followed it all the way back to my flat and my family. And of course I realised that he was going to follow it to Paddington. I had to go back didn't I?"
I said, "I'm not sure I would."
"You would," Adnan said. "Anyone would. I did a U-turn and went the wrong way down the one way roads back to Paddington and there was my passenger, holding himself and shivering, and there was the man, the man with the rope, walking toward us and coiling it up as he went.
"I sped up and got there first, and I opened the door and shouted for my passenger to get back in, and he did but oh my days he was slow."
"And the man?" I asked.
"As soon as I took my eyes off him he disappeared. I reverse into the pick-up area in order to turn around, and when I try to go the car jolted, like something's holding it again, but this time I put my foot down straight away and then I saw him."
"The man?"
"Yes, the man. Right here." Adnan gestured to the space by the driver side window. "He was leaning down and holding onto the car, and his eyes were alive but his face was not. It was grey like a waxwork. That's all I remember because he only held us for a split second and then the wing mirror folded back and he lost his grip and I was gone.
"I checked all the way for the rope, trying catch a glimpse of it the way I did before but I never did, and then somewhere around Notting Hill my passenger said This is good, and he asked me to let him out, and I only thought of all the questions I should have asked him later."
Adnan let out a deep breath and leant back in his seat. "I've never told that to anyone other than my wife," he said. 
I made some comment about how scary it was but he ignored me.
He said, "When I got home there was a notification on the app that I'd missed a pick-up at Marble Arch. That was not the glitch. But the pick-up at Borough, my passenger, there was no record of him at all. No payment either. But the real coincidence of it was... my wife gave me a copy of Samuel Pepys' diaries for Christmas and about a week later, on New Years day in fact, I read the part about the fire of London, and then about what you said, the trial and hanging of Robert Hubert, and that was it, that was the name of the man I drove to Marble Arch, the site of Tyburn tree."