A View of the Hudson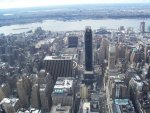 Tue, 24 Jan 2023
A View of the Hudson
He drinks a Styrofoam coffee
at sunset on the roof of the world,
indigo skies turn amber,
over tall, grey buildings,
Macy's in the foreground.
There's a message
on his phone,
she's running late.
Wind rifles through his coat
and steals his breath.
In a Hinterland
of steel and glass,
rivers flow
on the horizon,
the Hudson hears his thoughts.
Reaching into a pocket,
he feels a velvet box,
inside it a future,
fate as yet unsaid,
the past stories below.
Tourists spill out from lifts,
leaving a lone woman standing,
caught in the half-light, 
eyes across a platform,
lives spinning on the turn of a question.
*Image is my own