Wheels Within Wheels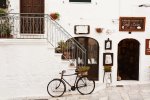 Wed, 25 Jan 2023
1 likes
I like to write
humorous stuff
but I am also
a cinema buff.
My favourite
foreign film
is an example
of neorealism.
Its story tells
how one feels
to be the owner
of a pair of wheels.
Not very happy,
he has to admit,
to lose his bike,
as a thief stole it.
The vehicle is vital
for his livelihood.
The situation
doesn't look good.
The victim is worried
about his job;
chases the thief,
he's set upon by a mob.
He decides to ignore
his wounded pride
and tries to pinch
another man's ride.
Mayhem ensues
and his frustration
is compounded
by aggravation.
His son, aged nine,
who is by his side,
is full of emotions
he's unable to hide.
It is quite evident
the pair cannot cope;
any chance of revival
is only a forlorn hope.
© Luigi Pagano 2023