Herbs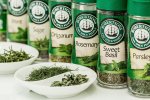 Mon, 06 Feb 2023
2 likes
I haven't green fingers,
my forte is gastronomy
and know that to skimp
is a false economy.
When I am cooking,
I find I can't curb
my desire to use
every available herb.
I chop some basil
and hey presto
I have the main
ingredient for pesto,
the green sauce
to enjoy with a dish
of potato gnocchi
or even with fish.
Without some dried
rosemary leaves
and fresh oregano
my lasagna grieves.
My cookery book
has a special page
on how many ways
we can use sage.
Make stuffing with it,
some chefs advise
and with roast chicken
that's really wise.
Sometimes I'm unsure
and therefore I wonder
if the herb cilantro
is the same as coriander.
It is not parsley,
that much I deduct,
it's just another
botanical product.
 
© Luigi Pagano 2023