A Crazy Life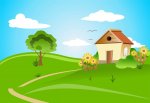 Wed, 08 Feb 2023
1 likes
Life, temporarily,
is totally crazy;
there is no excuse
for me to be lazy.
Some people are convinced
I'm having a ball
but I shall endeavour
to make another call 
before I consider
if I should take a break 
to release the tension 
that gives me a headache;
it is to the council
so that they could be told
about the latest news
on my urban household. 
Before, it used to be
a joint occupancy
but it has now become
a single tenancy. 
I don't think I am wrong
or committing a gaffe;
I hope the council tax
will be reduced to half.
© Luigi Pagano 2023