Different to caged birds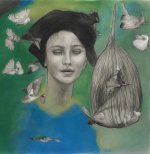 Tue, 21 Feb 2023
Different to caged birds raging
against bars searching for ways out,
sky-borne birds are screaming loud
high above and disengaging
from mankind's belligerent noises,
rising terror and the voices
in some everlasting wars.
Some, whose wings are being shattered
and their souls destroyed and scattered
fall from skies like shooting stars.
Others, who escape the horror
thrust into the higher levels
where they sing to ban the devils
and to harmonize their outpour.
When they reach the outer planets,
they become gods reincarnates 
reigning in far off dimensions.
On dark nights you see them glimmer
high above the full moon's shimmer 
waving stars in their ascensions.