Violets, Sweet Violets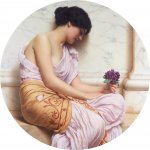 Sun, 26 Feb 2023
From seed to shoot and stem,
serrated hearts of leaves,
hooks of blue blooms;
I felt it take root at first
in my spleen until it grew
to wreathe my rib cage 
in a flush of sweet violet, and yet 
I am as quiet about it
as a convent. 
 
This kind of death wish is hushed
and whispered
if ever uttered 
at all.
But these dark thoughts must be 
muttered into bloodlines, 
because I imagine
the bleached bright ward, 
a hospital bed of violets;
what words can I offer now 
when the night and its dead stars
have swallowed me too.
And I remember,
I remember how my own despair
was met with silence.
Here are heirlooms and history --
I measure the distance between 
truth and memory. 
 
I am the great white cow, Ione,
chewing a cud
with the temperance of violets --
what consolation
from the kind of men
who would make themselves 
gods!
Follow the water, after all
this is a path for the wayless. 
I breathe, I exist, the violet 
lives on in me still, 
a cold brute 
of a misunderstood February
with its early promise to usher
back the light.
Painting is from here: https://commons.m.wikimedia.org/wiki/File:Violets,_sweet_violets_,_by_John_William_Godward.jpg#mw-jump-to-license