Midsummer Hill, southern end of the Malverns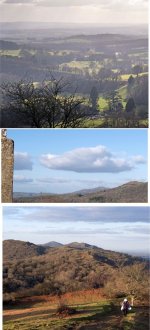 Sat, 25 Feb 2023
Up the lane towards Midsummer hill,
soon such views westwards –
rolling layers of hills, faint in the Welsh distance.
Eastnor Castle folly (stately home) hidden in the valley.
Turn of up to the left to climb gently to the obelisk on the ridge
(90 foot high, 1812 landmark, monument with memorial plaques)
strong gusts, view also now north along the Malverns,
white cloud islands;
return down and on to Gullet drowned quarry
– huge background vertical rock face, still water;
turn right and up up up through the woods towards the hill fort top
(thick dry crispy dead leaf floor, leafless trees,
signs of life poking through the soil in places);
out on the fort top – on top of the world, bright shiny sky,
Malvern ridge peaks overlapping to the north
now can also look out over the flat English Evesham plain to the misty east,
with the Cotswolds faint in the distance,
late afternoon shiny golden sunshine and long contrast shadows,
colours tinging the sky through the trees as we descend.