Triptych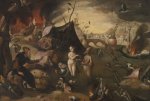 Mon, 27 Feb 2023
1.
We live among shadows
the colour of despair.
They inhabit a past
abandoned too soon.
A cold-hearted playground -
we were taken there
to explore uncertain secrets
beneath a waning moon.
The moon glistened
like a brooch of regret
a trinket, pinned tight against
an old coat's wide lapel –
the kind my great aunt wore
as she walked these city streets,
adhering to the invisible wealth
of God, church, heaven, hell
and other superstitions
recited on days of prayer
to the dull refrain of
a cracked Roman bell.
2.
We cleared her house
of memory – its crucifix,
brass, altar-crystal - filled
a crate or three with the stuff.
The sideboard that stood
beneath a picture of her saviour
(healing the blind, prostrate in Jericho)
we struggled to move it.
It was as if she had taken
its form, eager to remain
refusing to vacate, her
spirit frightened before
the eyes of the Lord. It made
me sad. All that was in her,
would it now infect me ?
The long years ahead,
an unwieldly sea.
The disbelieving nomad
within spat three times
at the thought.
3.
To dream is to live.
To live is to swim
in a river of dreams.
I caught a train and made
my escape beyond
the city's boundaries,
beyond the streams
and hedges of countryside,
beyond the disjointed
shape of my life.
Flight cleanses the soul;
emptiness is encouragement
when faith intervenes.
And faith arrived
in its most natural form.
It spoke the language
of thunder and rain.
The churning clouds
turned blue and black.
The north wind shook me
until I lay in bewilderment
at what I had become.
The rock face became
my confessor.
Water became my crystal.
Earth became my altar.
The lizards and birds
and life-pulse of all things
rooted me like my
great aunt's sideboard
to where I wanted to be.
And when the sun broke
cover, illuminating
the world in a clearer
light, all my fears
were left undone.