The Church of Lost Souls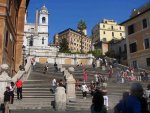 Wed, 07 Mar 2018
I couldn't stay much longer. Rome's an unforgiving city and it will spit you out the moment you've spent your last lira unless you don't mind sleeping with dirty needles in the park around Central Station.
I'd been staying at a cheap pensione near the Spanish Steps trying to find work and it wasn't until the evening of the third day that I began to understand the reason why work was so hard to come by. A chef told me I was 'black market', one without Italian credentials. The state came down hard on those who employed foreigners.
On the fourth day I took a different tack and decided to visit the British Embassy.  I waited my turn, an hour with my stomach growling for food, and politely asked how I should best search for employment, but the person I spoke to didn't want to speak English. That's when my patience snapped. I stormed out thrashing at doors hoping they'd break in my wake. When a pretty young girl followed me out, I feared the worst. I looked back and she waved for me to stop.
'I didn't break anything,' I said.
'I know,' she replied. 'Listen, it's not easy to find work in Rome.'
'You're dead right there.'
'There's a church near the Spanish Steps that has a job-vacancy board for foreigners. It's called the Church of Lost Souls. I'm not sure what it's called in Italian but ask around. You should try there.'
Before I could thank her, she swivelled and ran up the steps, through the door and into the embassy.
'Lost souls, hey?' I thought. 'Sounds right up my street.'
I had almost given up on my groundless, drug-induced belief that I'd lived in Rome during the time of Caesar and that I must live in the eternal city, if only for a few months, when I stumbled across the Church of Lost Souls in the street adjacent to the pensione. Nestled between restaurants where I'd all but begged to be given a start as a dishwasher for peanuts, I strutted along without a care, confident that my luck was about to change.
Maybe I could be a chauffeur to a beautiful mistress or perhaps there'd be something for a casino or a job on an international film set in Cinecitta. The mind boggles hardest in desperation.
The Church of Lost Souls didn't resemble a conventional church. I found it by entering a joke shop and asking the cashier.
'Straight through there,' said the fresh-faced girl with an American accent, pointing to the back of the shop.
Without hesitation, I opened a rickety old door and found myself in a small courtyard. An old man sat at a table reading what appeared to be the Corriere Della Sport looked up at me and pointed nonchalantly towards a round hole in the middle of the courtyard. When I'd approached it he demonstrated that I should descend by pointing a finger downwards. I thought of Caesar beckoning death.
'The church is in the sewers?' I asked, but he'd gone back to his paper and didn't look up from it.
I desperately needed a job. If I didn't find one I'd have to call Mum back home and ask her to sell a table or something so she could send out some emergency money, which I didn't want to happen.
As I took my first steps down the hole, I could feel that the metal railings weren't rusty. In fact they had the feel of being often touched by human hands. No rust, no sharp bits. That gave me confidence as I felt my way further down.
After about a dozen steps I found a surface. There in the dark, I could make out the figure of what appeared to be an old woman crouched next to a door that shed light from the other side. As I approached, I could see that what I thought was an old woman was actually a young boy dressed in a black cloak, sat on a stool.
'Is this the Church of Lost Souls?' I asked.
'It is,' he said in a high-pitched voice that resonated around us. I was sure he was about to laugh, for what I couldn't tell. All I knew was that if this was a joke, it wasn't going to be on me.
'It is open,' the boy said.
I went in. There were candles lit everywhere and the cobbled floor looked like an upside-down prehistoric cave with the wax of a thousand candles heaped up all around the place like stalagmites. A sign, written only in English, said, 'Please light a candle, 1000 lira. Thank you.'
I thought, if this is a joke…but then I reached into my pocket, pulled out a note, placed it through the slit of a wooden box, picked up a candle, lit it from another and solemnly placed it onto the wax of one nearly deceased.
I did feel pretty spiritual in that room of light, all alone, warm, so I made a prayer (for a job). Just as I'd finished I opened my eyes and to my surprise an old woman was standing illuminated in front of me. She came closer and proffered to hold my hand, which I then gave to her.
'Follow me,' she said.
Her hand was so supple and smooth for an old woman. It was warm too.
A further door revealed a very ordinary room where ancient wooden stools and dirty plastic chairs surrounded a small table in the middle.
The old woman sat me down. I was sure she'd turn out to be around my age when she faced me and I had the feeling she knew my every thought.
'I keep my hands soft by making candles,' she said.
'Really?' I replied. (Where's that damned noticeboard? So you're the one that takes the thousand lira, huh?)
'The noticeboard is over here,' she said.
And again, she took my hand and guided me towards a mantelpiece that I was sure wasn't there when we walked into the room. Before looking at the noticeboard, I peered down to the boarded-up fireplace and saw a bunch of dirty, plastic flowers covered in spider webs.
I said thank you and licked my lips at the numerous little pieces of paper pinned to the noticeboard on the mantelpiece. To my glee, all were written in English.
'The thousand lira for the candles goes to the homeless of Rome,' she said.
So she could read my mind! Maybe she'd met too many faithless young Englishmen but I hid my guilt as well as I could. Her accent sounded Welsh but I was too eager to find work to enquire.
'That's very charitable. I'm sure the money doesn't go unnoticed,' I said.
'We have a hostel now with twelve rooms. There, they can rest and find their feet.'
'That's amazing,' I said, but I'd missed her point completely. All I'd needed to do was ask and she'd have given me a room at the hostel but my mind was fixed on a job. Besides, I didn't want to live with the homeless.
'They're not as bad as you might think,' she said.
As I read through the first handwritten notice, my hopes descended into my heart.
It read, 'Local butcher requires general assistant for part-time work, including de-boning, blood storage, slaughterhouse collection and upkeep of refrigeration unit, 20,000 lira a week (to include accommodation).
'Cheeky git,' I thought to myself.
'Beggars can't be choosers,' said the old woman.
Expletives exploded around my brain but I couldn't express my anger in front of the old woman. I looked at her and smiled but it came out as a grimace.
It was then that I realised how much younger she appeared to be.
The next ad read, 'Pizza delivery boy, based Spanish Steps, bike provided. Must be honest, quick and know his way around Rome.' That was another no-go.
I looked at the old woman and again she looked younger still, perhaps by another ten years.
'You keep on looking younger,' I said.
She seemed touched, but in an affected way, as if she'd heard the same thing many times.
'It's the light,' she said, and looked up to a striplight on the ceiling, which had certainly not been there when we entered the room.
'A trick of the light,' she said with a wry smile.
But as I watched her smile develop, there were signs of change and I was certain that I saw crow's feet disappearing from the sides of her eyes.
Reverting back to the noticeboard as much for distraction as anything else, I saw a third vacancy, reading, ' Bunny girl for Playboy Club required to serve cocktails in full bunny costume. Immediate start, no experience necessary. 22h till 4h, 300,000 lira per night plus tips.' I wished I was a woman for a moment and then remembered my short-lived effort as a go-go dancer at Heaven in pursuit of an Equity card. I imagined myself shaving off my eyebrows and buying a Wonderbra and make-up, getting fit, but my voice would never pass the test.
 I practised 'hello, gentleman' in my head and the old woman tittered next to me.
'You will never get that job,' she said. I was getting quite accustomed to her mind-reading talents and I didn't turn to face her. She'd have probably been my age by then.
Another ad read, 'Barmaid required for English pub'. As I read those few words, the old woman's hand entered my vision and pointed to a small advert at the bottom of the board.
'Young, well educated English man/woman to look after 8 yr old boy, loves football, magic and the occult. 300,000 lira per month plus accommodation. Call Maria on 142696900.'
'That sounds perfect,' I said.
The old woman, now a young and attractive woman, smiled at me and unpinned the advert. Placing it into my hand, she told me to take it with me.
'That way, you will be the only one to call Maria,' she said. Then she held my hand and I noticed how hard, bony, cold and wrinkly her hand had become.
She guided me to the steps and went to sit at her chair.
'Thank you for your help,' I said, noticing that she looked just as she had when we first met.